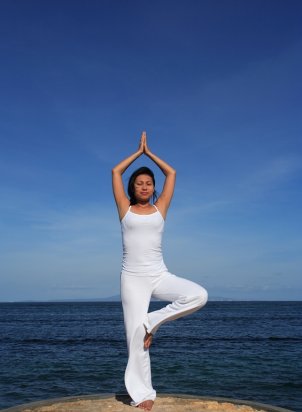 Most yoga classes offered today ask that you bring along your own yoga mat. Besides loose, comfortable clothing, yoga mats are really the only accessories you need to do yoga at a studio or at home. But with the wide array of mats now available, choosing one can be a bit of a conundrum, especially if you're new to yoga. Luckily, there are a number of factors that you can keep in mind to help with this selection.
Choosing a Yoga Mat:

Set a budget. As with almost any item you plan to purchase, this is the first thing you should do. With the vast number of yoga mats on the market, rest assured that you'll find at least one in your price range.

Consider the size of the mat. Most yoga mats are around 68 inches long, which will accommodate most people of average height. Some are as short as 60 inches, a fine length for kids and people of a shorter stature. Others are as long as 75 inches, a length that can accommodate taller yoga practitioners. If you go with a longer yoga mat, you can actually perform a broader range of poses without having to adjust your stance.

Take a look at the thickness. Like size, the thickness of yoga mats can vary greatly. You want a mat that is thick enough to add comfort to both your poses and your meditation without being too bulky. A good rule of thumb is to purchase a mat that is at least 3/16 of an inch thick. If you have joint pain, look for a thicker mat.

Make sure it has good traction, especially when you sweat. Surprisingly, not all yoga mats are made of materials that allow you to maintain traction while perspiring. Choose one that holds up to moisture and doesn't become slippery.

Keep in mind its stickiness. If you're at all familiar with yoga, you've more than likely heard the term "sticky mat." Some mats are so sticky that they can actually hamper your practice. Instead of sticking to the floor, they actually stick to your feet.

Check that it's washable or at least made of materials that will hold up when washed. Eco-friendly natural latex is one of the premium materials for yoga mats, but there are also rubbers and polymers that wash up well.

Read some customer reviews. It's quite handy to look at what other people are actually saying about the mats themselves. If a lot of people are happy with a particular mat, it may be the one for you.
What Do You Want to Do Next?

Shop Yoga & Pilates Gear
Shop Yoga & Meditation Supplies
Shop Yoga DVDs
See All Guides
Read More Sports & Fitness Guides
Learn More about Exercise