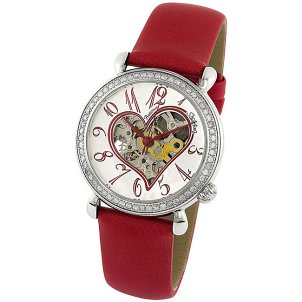 Things You Need:
Paper
Fashion magazines
Fashion-oriented Websites
When you are selecting a new women's fashion watch, there are so many choices available that it can be easy to become confused. Actually, it does not have to be difficult, and with a few simple guidelines, the process can be both easy and fun. Buying a beautiful fashion watch is all about you: your look, your taste and your budget. This article gives you tips on how to choose a women's fashion watch that showcases your personal style.
Choosing a Fashion Watch:

Do your research. All you really need to start is a pad of paper and some fashion magazines or access to Websites that highlight current fashion trends. As you look through the magazines or look over the Websites, keep an eye out for the watch styles and sizes which appeal to you. Do you see something you like? Jot it down, even if it's a mega-expensive watch. Be sure to take note of individual features that you like, such as brand names, colors, materials and size. You can learn a great deal about what you are looking for in this way. If you have spotted a watch that has a style you love but is too expensive, you may be able to find a similar, lower-priced version since you know exactly what you want.

Start shopping for your watch. Now that you have a few of your favorite styles in mind, it is time to go shopping. Start your comparison shopping by browsing the Internet for online watch retailers. These are your best resource for women's fashion watches because they usually have a large selection and often offer the watches at a discounted price. (Avoid the small fashion boutiques; the price will usually be higher and the selection smaller.) Reread your research notes to help you narrow your options; for example, you may decide that your fashion watch must have a red leather strap or a shiny silver bracelet. Once you have found a nice timepiece, make a note of the brand, model number and price. Keep browsing until you have a list of several options.

Buy your watch. After you have looked over your list and decided which fashion watch will give you your signature style, it's time to make your purchase. Again, you'll probably find that you can get the watch at a huge discount by shopping on the Internet, but it is important to check out a few details. Images don't always provide a good example of a watch's size, so be sure to look for the exact dimensions in the description. Also, ask about the warranty information and exactly what is covered should you need watch repair in the future. Now be prepared to buy a beautiful watch and show everyone your very own unique brand of style.

Buy Women's Fashion Watches
Back to Guides Directory