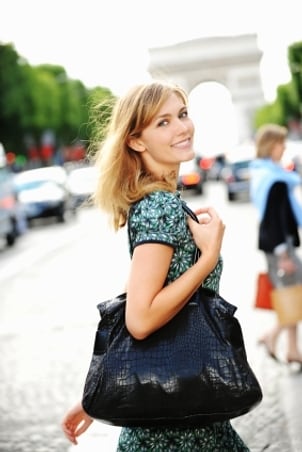 No matter where you go or why you're going, there's a travel bag out there designed specifically for your kind of travel. Because there are so many places to go, reasons to travel and things to take with you, travel bags come in a huge variety, so it can be hard to find the best travel bag for you. Not to worry; Overstock.com brings you these tips on how to choose a travel bag so you'll be ready for your next trip.
Choosing a Travel Bag:

Easy to carry and use: Every bag you choose should be easy to carry and use and should hold everything you need to take with you, and travel bags are no exception. Cosmetic travel bags, for example, need to be able to hold all your makeup, travel-sized hygiene items and a few tools, like a small flatiron. They also need to be lightweight, have sturdy handles and have organizer pockets so your things are easily accessible. If you'd prefer a travel handbag, make sure it has pockets for your cell phone, MP3 player, passport and other essentials while still being easy to tote around. Use a golf travel bag to take your favorite sport equipment with you to the next friendly game or grueling competition. The best travel bag is the kind you want to use and take with you because it's easy to do so.

Matches your style: Like luggage, travel bags are no longer the black, boring bags of the past. The brand names you trust and the newer fashion luggage brands now offer stylish purses and travel bags that you'll want to use simply because they look so good. Brightly colored cosmetic travel bags can help you wake up and be happy about the day during your morning beauty routine, while a travel tote bag with your favorite animal print will let you enjoy the sights of your destination and keep everything close at hand. The style of a travel bag also includes its material; for example, many handbags are made of leather, which provides durability and a classic, elegant look perfect for high-end dinners. Beach bags, on the other hand, are often made of mesh or canvas and are large enough to hold balls, nets, Frisbees, sunscreen and water bottles, making beach bags best for a day spent outside. A travel bag that holds your gear and matches your style will be a pleasure to have and use.

Protects your stuff: A feature of a good travel bag that is sometimes overlooked is its ability to protect your belongings. Choose travel tote bags with locking zippers, purses and bags that sit close to your body and don't look like they hold anything valuable or golf travel bags with hard shells or extra padding to protect your belongings from thieves and damage.

Buy Travel Bags
Back to Guides Directory