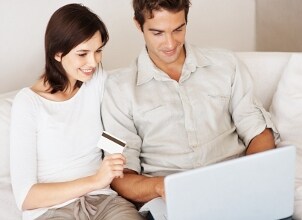 If you're looking for a modern wedding ring, then consider titanium wedding bands. A wedding band is a significant investment, so it's important to choose one that will represent your individual style. Titanium is durable and stylish, and titanium rings are available in a range of cool designs.
Choosing a Titanium Ring:

Stones: Gemstones will add personality to your titanium band. Diamonds are popular stones for wedding bands, but other stones can add an interesting touch. Colored diamonds are precious but still eye-catching. Pink, yellow, green, blue, and black diamonds are all modern choices for a wedding ring. Other gemstones also bring color to a titanium ring. Amethysts, rubies, aquamarines, emeralds, and sapphires are all popular choices. For an affordable and stylish wedding ring, choose a titanium band decorated with cubic zirconias.

Accents: Some titanium wedding rings are very straightforward, but if you're looking for wedding jewelry that will stand out, then look for rings with accents. Rings with inlaid cables, textured etching, and interesting finishes may match your personal style best. Some titanium wedding bands feature gold or bronze accents. These rings offer a universal look in a modern and unique wedding ring. Cut-out accents are also very distinctive and contemporary. Look for cut-out designs depicting animals, interesting geometric patterns, or floral motifs.

Colors: Most wedding bands are silver or gold in color, but bolder colors are available in titanium wedding bands. Titanium can be plated or dyed to give it a more unique hue. Black titanium rings are very interesting options for a unique wedding band. Black titanium rings may feature eye-catching patterns and designs. Blue, pink, red, and green titanium wedding bands are also available. Some titanium wedding rings feature stripes or other fun patterns. Choose the titanium wedding ring that will look great with your wardrobe and portray your personal style.

Unadorned: If your style is more traditional, look for rings with a clean, classic style. Titanium is a durable and beautiful metal on its own, and a simple brushed or polished titanium wedding band in a silver or gold color may be perfect for you.
Ring Buying Tip:

No matter which wedding band you choose, it needs to fit. Use our Ring Sizing Chart to get the ring that fits perfectly.

Buy Titanium Rings
Back to Guides Directory