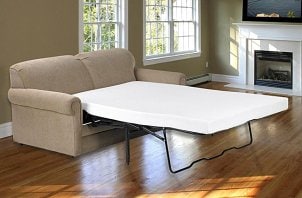 The dual functions of a sofa bed make it an invaluable piece of furniture. The ease with which it switches from bed to sofa makes it the perfect addition to guest rooms and a handy space-saver for small areas. Choosing a sofa bed requires some research before making a decision because of the varying colors and sizes available. You can personalize your sleep sofa even further with a variety of mattresses made specifically for sleep sofas. Once you know what to look for, choosing the perfect sleeper sofa is simple. Take a look below to learn how to choose a sleep sofa.
Choosing a Sleep Sofa:

Measure. Measure the available space in the room where you want to place the sleeper sofa. This will be the maximum width and length of the sofa. Make sure you know how much room you'll need for the mattress to fold out and rest comfortably on the floor. Also, make sure you measure the door height and width as well to ensure the sleep sofa will fit through the door. You don't want to have to immediately return to the store and begin the whole shopping process over again.

Choose a size. Once you've measured, you can choose the size of sleep sofa you want. You don't have to get the biggest sofa available. Chair sleepers start at 39 inches and go to 58 inches. Twin sleepers range from 48 inches to 65 inches. Full sleepers are between 63 inches and 92 inches. Queen sleepers measure between 69 inches and 102 inches. You can even have a sectional sofa with a sleep sofa hidden away in it.

Decide on a mattress type. Determine the type of mattress you want for your sofa bed. Most sleep sofas either have innerspring or foam mattresses. Some models of sleep sofas are equipped to work with air mattresses as well. Choosing the right mattress is as important as choosing the right kind of sleeper sofa.

Read reviews. Other customers' opinions are invaluable when purchasing a new piece of furniture. Look at reviews of the sofas you're interested in to find one that's right for you to see if it fits your expectations.

Coordinate with existing furniture. If you wish to color coordinate your sleep sofa with the rest of the room's decor, then consider matching the fabric of your new sleeper sofa to your already existing furniture. Sleeper sofas come in all sorts of material. Even formal couches like leather sofas can feature a sofa bed.

Buy Sofa Beds
Back to Guides Directory