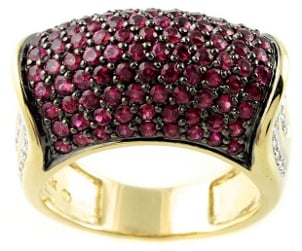 The perfect finishing touch for a variety of outfits, a ruby ring can look stunning with dark skinny jeans, black silk top and shiny silver heels. This outfit will take you from work to drinks in style. Ruby rings aren't limited to accessorizing jeans and sexy heels, however. Your favorite casual green sack dress, yellow tunic top and long pink dress can use the touch of fiery red rubies. Even if buying gemstone jewelry is new territory for you, these tips can help you select stunning ruby jewelry for your wardrobe.
Buying Ruby Rings:

Select a signature style: Gemstone jewelry is available in many different fashions. Cocktail rings, band rings and solitaires all have their appeal among ruby jewelry. The key to investing in a fabulous piece of ruby jewelry is to choose a style that speaks to you. The best ruby rings are those that are worn regularly. Cocktail rings are great for bold and passionate accessorizing. Cocktail rubies can stand on their own without any help from a modern necklace, a pile of bracelets or a set of chandelier earrings. Band rings are better for everyday wear because they go well with a variety of clothing and accessories. Solitaire jewelry adds a nice splash of color to an outfit in a classic way. Choose the ruby jewelry that you'll have a hard time leaving in your jewelry box.

Choose a ruby shade: You may be surprised when shopping to find that not all rubies are red. Many rubies are pink or nearly purple. Bright red rubies are fabulous, but they might not be right for every wardrobe. If you own a lot of purple clothing, then the red-purple rubies may suit you best. Collect a variety of ruby rings in every shade if the gemstone is your absolute favorite or if you want a wide selection of gems to choose from when accessorizing.

Check for enhancements and authenticity: Rubies can be created or treated to enhance their appearance. Created rubies come from a lab. Lab-created rubies give more consumers the chance to enjoy this gorgeous gem, but be sure you don't pay natural ruby prices for created rubies. Ruby rings often feature rubies that have been enhanced with heat treatments. Heat is most often used on gemstones to improve clarity. Be aware of these treatments when you're shopping for ruby rings.

Buy Ruby Rings
Back to Guides Directory