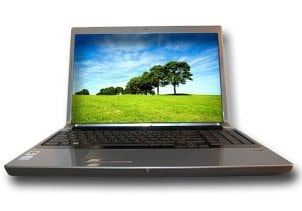 If you need to access your email or work on a spreadsheet from any location then nothing beats a portable notebook or laptop computer. Many brands and models of notebook computers are available with many different features. To make an informed decision and find the notebook computer that is perfect for you, consider carefully all of the various options.
Choosing a Notebook Computer:

Take into account how often you will be transporting the notebook to different locations and whether you will be seated at a desk when using the computer. Consider the size of the notebook first to ensure you won't be carrying too much weight or have a notebook that is uncomfortable to use on your lap.

Think about the type of software programs you will be using to determine whether you need a notebook with a specific operating system.

Consider what applications you will be using most frequently. Choose a miniature notebook with less processing power, often referred to as a "netbook," if you will only be surfing the Internet and occasionally using a word processor.

Decide how you will be connecting to the Internet. Choose a notebook with a wired Ethernet port if you will be using an Ethernet cable to connect to a home network. Go with a notebook that is Wi-Fi compatible if you will be wirelessly connecting to an Internet source at cafes and libraries.

Check the life of the notebook's battery. Pick a notebook with a longer battery life if you frequently will be in locations that do not have ready access to a wall outlet.

Read through the notebook's specifications to find out what security features it includes. Some notebooks come pre-packaged with security software that doesn't allow anyone to access the operating system without an extra password.

Find out the exact specifications of the notebook and compare them to the minimum system requirements of any software you want to install. Choose a notebook with a faster processor and more RAM if you will be frequently using several different programs at the same time.
Notebook Computer Shopping Tip:

Different notebooks come with different software pre-installed. You may want to go with a more expensive option that already includes word processing and spreadsheet software instead of buying a cheaper notebook without them. The cost benefit may be offset if you end up having to buy the software anyway.

Buy Laptops
Back to Guides Directory