How to Choose a Men's Leather Jacket
by Lindsay Law
Published April 29, 2010 | Updated November 26, 2014
What do James Dean, Michael Jackson, and Marlon Brando have in common? Each of these American icons was famous for wearing a leather jacket as a prominent piece of their wardrobe. Leather continues to be a classic choice among men's jackets. If you're thinking about adding one to your wardrobe, follow these tips to choose one that you'll want to wear for many years.
Choosing a Leather Jacket: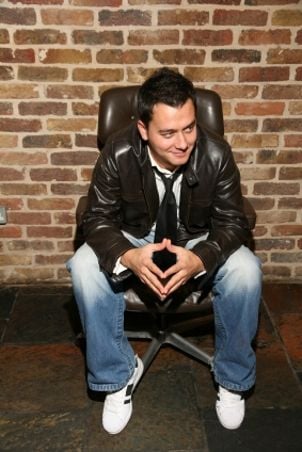 Shop Men's Leather Jackets ▸
Choose a flattering cut.

Men's bomber jackets, motorcycle jackets, and distressed leather jackets are among the popular cuts of men's leather jackets. Each fits differently, however. Bomber jackets have a roomier fit in the chest area and are fitted to the waist, making them ideal for lean men with broad shoulders. Motorcycle jackets typically fall to the waist and have metal hardware and zippered pockets; they are designed to have a tight fit. Distressed leather jackets have a vintage look and feel, with stiff lapels, boxy pockets, and a worn-in look. For a classic style, go with a straight, streamlined cut that looks fitted without looking tight.

Pick a color.

Brown leather jackets look vintage and more casual, which makes them great for men with a more laid-back style. They also look good paired with jeans. Black leather jackets can dress up business attire, such as pinstriped dress pants, but they can also lend a rugged touch to jeans or casual pants. If you're not sure which one you like best, choose a color based on the majority of your wardrobe: If you wear predominantly bright colors or white and black, buy a black leather jacket; for warmer, earthy tones, choose a brown leather jacket.

Look for a quality leather.

Leather jackets are generally made from either lambskin or cowhide. Lambskin is softer and glossier, and it usually offers a dressy look. It is not as durable as cowhide leather, however, and it shows scratches and tears easily. Cowhide leather ages well and has a more rugged, rough appearance. This type of leather is especially sought after in vintage jackets.

Keep your wardrobe in mind.

A leather jacket can be an investment, so be sure to pick one that will complement the clothes you already have if you want to get a lot of wear out of your jacket. You can also purchase a leather jacket that makes a statement and find neutral pieces to go with it.

Make sure it's comfortable.

Since most leather jackets are designed to fit snugly, make sure you find one that doesn't hug your body too tightly. Look for a style with large armholes if you have muscular arms, and ensure that there is enough room in the chest area if you have broad shoulders.