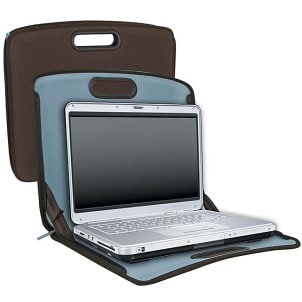 If you don't have one already, it's time to choose a laptop case for your computer. Laptop bags protect your laptop from bumps, scratches and other damage from the elements as well as provide a convenient form of transportation for your computer. Laptop cases and other computer bags come in a huge variety of styles with tons of features to choose from, so buying one you'll love to carry around and that will also protect your laptop is essential. Keep reading to learn more about how to choose a laptop case.
Choosing a Laptop Case:

Style: Whatever style you prefer or wherever you need to take your laptop, there's a laptop bag to match. If you're taking your laptop to work, consider a leather laptop case that is durable and looks professional. Laptop briefcases are great for taking your computer to work, whatever material they're made of. For students on the go, laptop messenger bags can't be beat. Laptop backpacks are excellent choices for both school and general travel because they leave your hands free to do other things and they usually meet carry-on restrictions if you're flying. Be sure to choose a style of computer briefcase or bag that you love; that way, it will be easier to take your laptop with you everywhere you go.

Features: In addition to the style of the laptop case, you must decide which features you want. A rolling laptop case might be a great option if you travel through airports often or if you have a lot to carry to work. Laptop briefcases often have detachable shoulder straps, so you can carry one as a laptop messenger bag when you have other things to carry or as a briefcase when you don't. Some computer briefcases and bags come with removable laptop sleeves to better protect your computer, whether it's inside the laptop case or not. Versatility is a feature often associated with laptop backpacks, meaning you can carry more than just your computer and power cord. If your laptop case is in a style you love and it has the features you want, it will be easy to use.

Safety: Safety is a major concern with laptop cases. Computers often contain valuable data, and your laptop itself is an expensive investment, so protecting them from damage and theft is very important. First, check to see if the leather laptop case you like has plenty of padding to protect your laptop from jostling. Laptop sleeves can act as an extra layer of padding if the laptop case you like doesn't have enough. Also, determine the durability of the laptop bag's material. Both durability and padding will prevent scratches and bumps from hurting your laptop. Second, verify if your rolling laptop case comes with a lock or if it can be locked. Nothing keeps intruders out like a lock. If you fly often, invest in a TSA lock so airport security officials can open your laptop bag without breaking the lock. Laptop cases in the right style, with the best features and with good safety measures are always excellent investments that will keep your laptop safe and easy to use wherever you take it.

Buy Laptop Cases
Back to Guides Directory