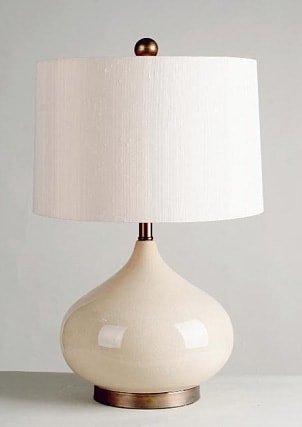 Choosing the correct lighting for a room is a vital factor in designing your home decor. Numerous elements make up a room's lighting design. The types of light fixtures and whether you use soft white or bright fluorescent bulbs influence the ambiance of the room. If you incorporate lamps into your room's lighting design, it is important to select the proper lamp shade as well.
Instructions:

Measure the harp. The harp is the curved metal piece that surrounds the light bulb on the lamp. As a rule of thumb, the length of the lamp shade should be between one-half inch longer and one-half inch shorter than the length of the harp. Another good way to gauge the proper length for a lamp shade is to choose one that is not more than one-third the length of the lamp base.

Measure the base of the lamp. The widest horizontal measurement of the lamp shade, whether it is the bottom, middle or top, should be no more than two inches wider than the lamp base. This will ensure that your lamp looks balanced.

Light bulbs generate heat. When choosing a lamp shade, factor in the amount of heat emitted by the light bulb. For example, a 100-watt white bulb will put off a good deal of heat, while a compact fluorescent bulb is much cooler. For hotter bulbs, choose a lamp shade that is wide enough to avoid close contact with the bulb. You can choose flared or tapered shapes, such as a bell- or empire-shaped lamp shade, for a cooler light bulb.

Choose a flattering shade. In general, if the lamp is elaborately embellished, opt for a simple shade in a complementary color. On the other hand, if the lamp is simple, you can choose a more ornate lamp shade. For example, a beaded and bejeweled lamp shade might look too busy on a gilded, intricately detailed lamp.

Match the style of the lamp. A Victorian-era lamp would be complemented by a fringed tapestry lamp shade. A pleated-silk lamp shade would enhance an art deco style lamp. Choose a lamp shade with clean lines and decorated with modern prints for a contemporary lamp.

View All Lighting and Ceiling Fans
Back to Guides Directory