How to Choose a Kitchen Rug
by Angela Tague

Dress up the central gathering spot in your home with a stylish, durable kitchen rug. It's easy to add color, texture and warmth to your kitchen with a bright kitchen area rug that fits your style. Whether you need non-slip kitchen mats to place near the sink area or decorative accent rugs as a transition into the dining area, the following suggestions will help you find the area rugs that work for your space. Read on for tips on choosing a kitchen rug.
Choosing a Kitchen Rug: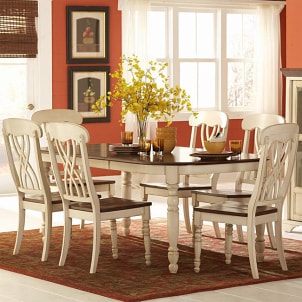 Shop Area Rugs ▸
Decide where you need rugs in the kitchen.

Consider adding kitchen mats and rugs to areas where you stand most often, including near the stove top and refrigerator. Area rugs work well when placed under a dining table or portable island. Add kitchen runners to areas that may get slippery, such as exterior entry doors or near the sink. Take a quick measurement of these areas before starting to shop.

Select rugs with a flat weave.

A kitchen area rug made from wool or synthetic materials has a low pile. Low-pile rugs are more stain-resistant than other weaves, and you can clean them easily with soap and water. If you'll be placing your rug in a high-traffic area, such as a doorway, you may want to buy a washable kitchen rug you can throw in the washing machine whenever it gets dirty. A washable kitchen rug is also a great option when you want to place rugs beneath the sink or near the refrigerator but worry about them being stained.

Choose a thick kitchen rug.

Extra fabric in your kitchen mats and rugs provides a cushion between the hard floor and your feet. The soft barrier also insulates your feet from cold tile, linoleum and ceramic floors. If you have a long hallway that leads into your kitchen or dining room, you may want to buy a few plush kitchen runners to make this area more comfortable, too.

Enhance your decor.

Use accent rugs to add color while coordinating with the existing items in your kitchen, including window treatments, decorative canisters or tablecloths. If you have a red rooster theme in your kitchen, choose rugs or kitchen mats that reflects the red color or farm theme.

Coordinate with kitchen tables.

Select a round area rug for circular tables. Use a square or rectangular area rug under breakfast nooks, breakfast-bar seating and rectangular tables. Always use a rug pad under kitchen rugs that do not have a non-slip backing.