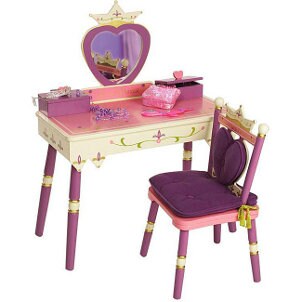 Kids are little adults waiting to happen, and, just like grown-ups, they need furniture that they like and that is designed to fit their little frames. You wouldn't sit in a chair so large you had to climb into it, so why would you expect your child to? If you know how to choose a kids' table, then picking the perfect furniture for your kids can be a fun family adventure. The low prices at Overstock.com make the experience of shopping for a kids' table even sweeter; find something the whole family can enjoy.
Choosing a Kids' Table:

Measure the room: Take a look around at the room where you're going to put the kids' table. Choose a spot where kids' furniture will fit easily: not directly in front of a vent, not in the path of an opening door, somewhere your child can easily make himself comfortable. Whether you've already purchased other kids' furniture or it's still in the future, make sure to leave enough room for a person to walk around comfortably.

Choose a shape: Kids' tables come in all the shapes as regular-size tables, so when shopping for children's furniture you're limited only by your imagination. Round children's tables are popular for group activities; they allow everyone to see each other and keep craft supplies easily accessible in the center of the table. Square kids' tables can help prevent squabbles by giving each child her own distinct space, and they have the advantage of fitting neatly into a corner when not in use. Rectangular tables have the same advantages as square kid's tables but offer a little more room to spread out paper or invite more friends. For the truly adventurous, choose a triangular table and let your imagination soar!

Pick a theme: A kids' table can be a fun accent piece in a bedroom, playroom or any room you choose. If your little girl's favorite color is green but you're not ready to paint the walls, you can compromise with a brightly colored table sized just for her. If your little boy loves space ships, you can give him what he wants with a space-themed table and chair set. For the animal lover in your life, choose a kids' table with a kitty for a base or treat your tomboy to a kid-size table with a sports theme.

Choose accessories: Kid's tables, while a great addition to any room, are even better with the right accessories. Chairs can match, in theme or color, and tie a room together while contrasting chairs can highlight the colors in a kids' table and add an element of fun. Whatever you choose, you know that specialized chairs make little ones feel welcome. Remember that the right lighting can help any craft project turn out better. Consider placing your kid's table under an overhead light or position it where it's illuminated by a floor lamp. If your kids' table is big enough, you can even use table lamps to brighten the room.

Consider durability and clean-up: Lots of kids' furniture is created to survive the test of playtime. A flimsy table won't stand the test of time; look for a sturdily built table crafted of strong materials, like wood or thick plastic. Decide how much time you want to spend keeping your new kids' furniture clean. A wooden table with cleanable paint is a good choice, as is a plastic table you can hose down.

Buy Kids' Tables
Back to Guides Directory