How to Choose a Durable Sofa Slipcover
by Amanda Mears
Published November 17, 2011 | Updated August 10, 2015
Slipcovers are great at disguising the questionable print on an old sofa or covering up years of use, but they can also be used to protect your new furniture from kids and pets. If you're using it to shield a sofa or chair from accidents, you may want to look for something sturdy and low maintenance. Here are a few things to keep in mind as you shop for a durable sofa slipcover.
Practical Slipcover Features: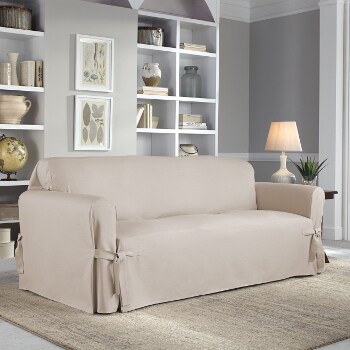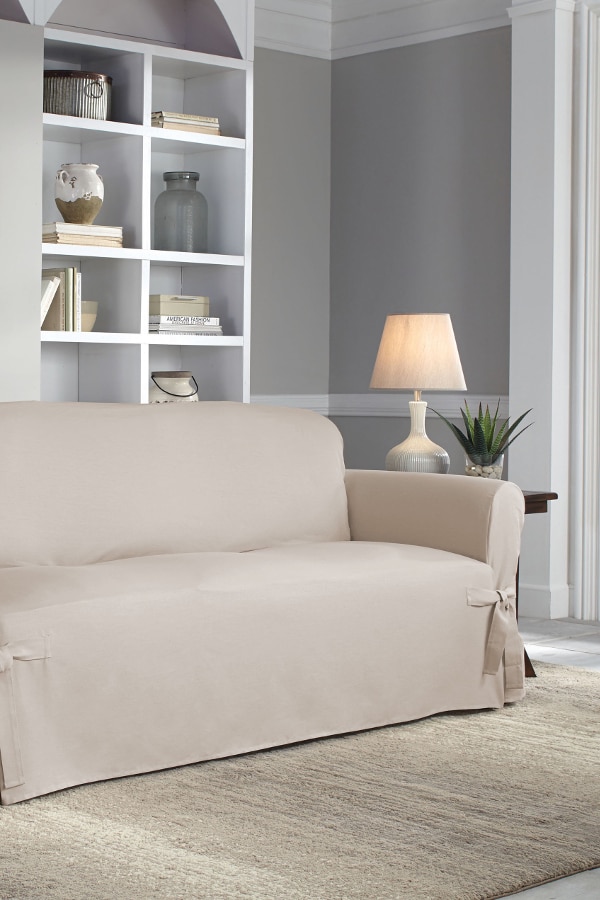 Shop Sofa Slipcovers ▸
Machine Washable

Some slipcovers are dry clean only, which is fine for some homes. However, a cover that's being used to protect a couch from dirty dog paws or food dropped by a toddler will need to be machine washable. Be sure to check the product description before you buy anything to make sure the fabric care is practical for your life.

Thick Cotton

When shopping for a slipcover, you'll find that many are made from a thin, stretchy polyester material that is made to fit a piece of furniture like a second skin. While they may look great, these aren't your best option durability-wise. Instead, look for slipcovers made from a thick cotton that is harder to snag and can be easily mended if the seams start to come apart after multiple washes.

Light Color

Choosing a slipcover in a light color probably seems counterintuitive, but a white slipcover is often a safe bet when looking for something durable because you can bleach it each time you wash it to remove stains. Unlike bright colors, white won't fade. If you're still hesitant to place a pristine white piece of furniture in a room with heavy traffic, get a neutral-hued slipcover and wash it in cold water with color-safe detergent to keep the color from fading over time.

Simple Construction

The more pieces a slipcover has, the more fitted it will look. However, more pieces also mean more work when you're constantly removing them to throw in the wash. The solution is to look for one-piece slipcovers that can be draped over a sofa or chair and adjusted to fit using ties. Purchasing slipcovers with tailored pleats can be enticing, but if you're looking for a low-maintenance couch cover, refrain from picking something with pleats that can lose their shape after being washed. Slipcovers with simple construction look chic and allow you to skip the iron and ironing board.