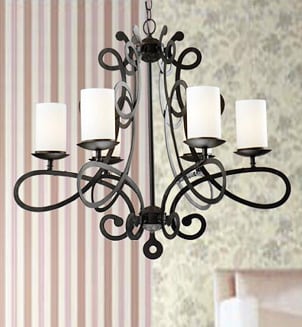 Chandeliers are more than just light fixtures. They float in our living spaces and become part of our home decor. Like any home decor, the right chandelier can make a big difference in the look and feel of a room. A large or ornate chandelier will overwhelm a small living space, and a small, simple chandelier will not look right in a formal dining room. Learn how to choose the best home lighting for your space.
Choosing a Chandelier:

Determine the correct diameter. Measure the length and width of the room in feet, and add those two numbers together. For example, if your room is 8 feet wide by 12 feet long, the sum is 20 feet. Change that number to inches and you will get a number that works for the diameter of your chandelier. In this case, a chandelier with a diameter of 20 inches would work well in an 8-foot by 12-foot room. For a dining room, the chandelier should have a diameter around 12 inches less than the table is wide.

Measure for the length. The taller the ceiling, the taller the chandelier can be. A foyer chandelier should hang about 7 feet off the floor, measuring from the bottom of the chandelier. For a chandelier suspended above a dining room table, there should be around 30 inches from the bottom of the chandelier to the tabletop for a dining room with an 8-foot ceiling.

Decide where to hang your chandelier. The location will affect the style of home lighting you choose. While most people think of chandeliers in dining rooms or a foyer, there are many other places you can hang a chandelier. Hang one that can be adjusted in intensity over your bed in a master bedroom and turn it down to candlelight level for a romantic feel. Install one over a claw-foot tub in your bathroom for a touch of glamour. Consider installing two chandelettes (mini chandeliers) over a large kitchen island instead of standard pendant lights for unique home decor.

Pick a style that matches the room. The chandelier should complement, not detract from, the theme of the room. A chandelette in a little girl's room, for example, could be painted white and have pink plastic crystals dangling from it. A chandelier in a rustic dining room might be made with twigs or even from a wagon wheel. For a shabby chic room, try a chandelier with a distressed black or white finish and antique glass sconce shades. A recent trend in chandeliers is to make them out of nontraditional materials and in unusual shapes. A rectangular chandelier made with hundreds of pieces of dangling glass, for example, looks incredible in a modern dining room.

Adjust the height of the chandelier. Use pliers to remove links in the chain and coil up the extra electrical wire in the ceiling housing. If the chandelier does not have a chain, see if it has a sliding adjustment on the cord. Most chandeliers without chains have a sliding mechanism that allows you to double up the cord and shorten the length.
Tips:

It is always better to have a chandelier that is slightly too big than too small.

Buy Chandeliers
Back to Guides Directory