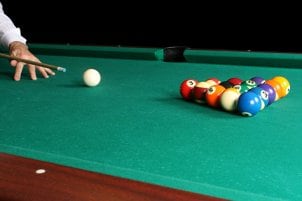 A billiard table (also commonly referred to as a pool table) can be a great addition to any home recreation room. For the serious billiards enthusiast and novices alike there really is nothing better than being able to play whenever you'd like from the comfort of your own home. It is important to remember when shopping around that all billiard tables are not created equal. It is important to consider your options to make sure you choose the perfect billiard table for you.
Choosing a Billiard Table:

Consider the size of the billiard table. Even if you really want a professional 9-foot table (the size used by professional billiard players) it may not be an option if your billiards room is not big enough. Use a tape measure to gauge the exact amount of free space you have to work with including enough elbow room around the table, so you don't hit the wall with the cues. A 7-foot table may be the best fit in a tight space.

Consider the price of the table. Billiard tables range in both quality and price from as cheap as a few hundred dollars to as much as several thousand dollars. More expensive tables will absolutely be of a higher quality but may be more than you need. Narrow down how much you're willing to spend and consider which features you're willing to sacrifice to meet that price cap.

Consider the quality of the table. A billiard table made out of cheaper wood and inexpensive felt may not look as professional as you'd like but will certainly be less expensive than one made out of solid oak. Consider how important the aesthetic quality of the table is to you before making a purchase.

Look at what comes with the table. You may be able to find a package where a table, a few pool cues and a full set of billiard balls come together for one price, or you may have to purchase everything separately. Make sure you know exactly what you're paying for and what you'll still have to buy in addition to the cost of the table.

Buy Billiard Tables
Back to Guides Directory