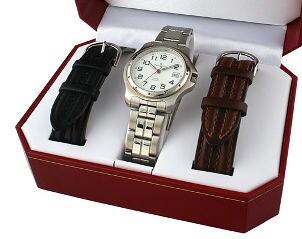 Things You Need:
Jeweler's screwdriver
Tweezers
Watches are generally a big investment, and most shoppers spend a lot of time and money to get the watch that will be perfect for them. Whether you have a favorite watch that needs a new band due to wear or you want to change your watch's band to have a different style or color, it can be a simple process to replace a watch band. Women's and men's watches of all styles have straps and bracelets that can be changed for any reason. Once we guide you through the process, you might find it so easy that you'll want to have a variety of watch bands on hand to swap for every outfit.
Changing a Watch Band:

Determining how your current watch band is attached to your watch is an important first step. Before you take the current watch band off your watch or even buy a new watch band, carefully examine how it is connected. Some bands attach with small pins on either side of the watch case, while others snap on. Many watch pins will work just like tension rods, similar to your shower curtain rod, and will simply need to be pressed or pinched in order for the band to be released. You will need to know how your watch band is attached in order to purchase the right style of replacement band and also to swap the new one for the old one.

Shopping for your watch band is an important part of the process. When looking for a watch band, there are many things that you need to consider. Once you have determined the type of band you need, your choice will depend mainly on your lifestyle and fashion preferences. The material of the watch band is an important consideration. Metal, plastic, rubber, fabric and leather are just some of the many materials that are available in watch straps and watch bracelets. Different clasps are also available, including butterfly clasps and buckle straps. Think about when and how you will wear your watch. Is it for keeping time while running laps or adding style and function to your daily wardrobe? Does it need to be an investment and last a long time, or will you be changing your watch band frequently? These questions can help you determine what type of watch band will be perfect for you.

Replacing your watch band can be a bit tricky the first time, so it is important to allow yourself some time and try to be patient. Once you have purchased your new watch strap or watch bracelet and you know how it needs to be attached, carefully remove your current watch band using a jeweler's screwdriver or tweezers. If your watch band has small pins or screws, you will likely need to remove the pins. Be careful not to lose the pins and always change your watch band in a safe place, such as your kitchen table. If your watch band snaps on and off, the process will likely be simpler, and you may not need any tools at all. Once you get the hang of replacing your watch band, you will be able to change it as often as you like.
Tips:

If you do lose your watch pins, you can purchase new ones fairly inexpensively and many new watch bands will include new watch pins for your convenience.

If you do not want to purchase any special tools, consider using household items, such as thumb tacks, to remove your watch pins. Think outside the box while considering how your watch band is attached to make the process easier.

Buy Watch Bands
Back to Guides Directory