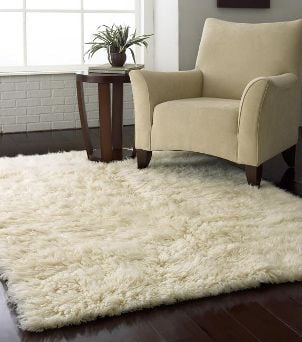 While they can last for many years, wool area rugs do need to be cleaned occasionally. With the proper cleaning products and a little time, you can easily restore your rugs to their original state.
Cleaning Wool Rugs:

Vacuum regularly. The best way to protect your rug is to keep it clean. Vacuuming it regularly will remove dirt before it can get ground into the fibers. To remove fuzz and dirt on the surface of your wool rug, vacuum it two to three times a week during the first year. After that, vacuum at least once a week or more often if the rug is in a high-traffic area. Vacuum in both directions to prevent matting.

Most manufacturers recommend disabling beater bars and brush bars when vacuuming wool rugs. Beater bars can cause some wool rugs to unravel.

Blot spills immediately. If you can, scoop up food residue and absorb liquids the moment they spill onto your rug. Use only a paper towel or a cloth to blot stains; avoid scrubbing as this can cause pilling and matting.

Use a steam cleaner. Steam can be effective for wool rug cleaning, but you'll want to test a small area on your rug with cleaner before cleaning the entire rug. If you can see residue on your wool rugs, don't use a steam cleaner. Wool can be ruined by both excess soap and water, so read instructions carefully before cleaning your rug with a steam cleaner. Make sure both machine-made and handmade wool rugs dry properly, as steam can cause them to shrink.

Rinse it outside. When a steam cleaner is too harsh for your wool rugs, you can clean them easily with just a few items. Place your wool rugs on a clean driveway or patio and wet them with a garden hose. Mix two capfuls of a mild detergent in a bucket of water and gently wipe your rugs with the mixture and a clean cloth. Rinse all detergent from your rugs and roll them up with dry towels to soak up excess water. Then lay your rugs flat to dry, but don't leave them in the sun for prolonged amounts of time as they can fade or shrink.
What Do You Want to Do Next?

Shop Large Wool Rugs
Shop Wool Accent Rugs
Shop All Wool Rugs
See All Guides
Read More Home Guides
Learn More about Area Rugs