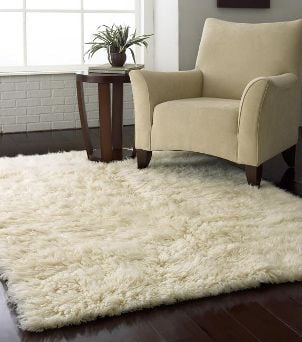 SHOP WOOL RUGS NOW >>
While they can last for many years, wool area rugs need to be taken care of properly in order for you to protect your investment. Improper care can lead to excessive shedding, fading, and wear; these are not signs that the rug is defective, but indications that the rug has not been treated with care. With the proper cleaning products and a little time, you can keep your wool area rugs looking great.
Cleaning Wool Rugs:

Never use a vacuum with a beater bar. All wool rugs shed, but a beater bar will cause excessive shedding and abrasions to your rug. To remove fuzz and dirt on the surface of your wool rug, vacuum it with the handheld attachment for your vacuum, or use a canister vacuum without a beater bar.

If You Want Your Wool Rug to Last:

Always disable beater bars and brush bars when vacuuming wool rugs.

Beater bars and abrasive brushes can cause severe damage to wool rugs. Instead, use handheld attachments that don't contain beater bars or brushes.

Vacuum it regularly. The best way to protect your rug is to keep it clean. Vacuuming it will remove dirt before it can get ground into the fibers, but as mentioned above, it's essential that you don't use a vacuum with a beater bar or a brush. Vacuum it two to three times a week during the first year. After that, vacuum at least once a week or more often if the rug is in a high-traffic area. Vacuum in both directions to prevent matting.

Blot spills immediately. If you can, scoop up food residue and absorb liquids the moment they spill onto your rug. Use only a paper towel or a cloth to blot stains; avoid scrubbing as this can cause pilling and matting. Use lukewarm water or a cleaner made specifically for cleaning wool to gently clean the spot. Use lukewarm water to remove all residue from the spot, taking care not to soak it excessively.

Use a rug pad. Placing a rug pad under your wool rug does more than add extra softness to the floor; it actually extends the life of your rug. If you want to maximize the life of your wool rug, be sure to place a rug pad underneath it to protect the backing from abrasion from your flooring.

Let the professionals clean it. Cleaning your wool rug at home is not recommended. A professional rug cleaner can properly clean your wool rug if it is excessively dirty. You'll want to find a quality cleaner in your area. Before they take the rug or you drop it off, inspect the rug and make notes of any issues. Alert the cleaners to any spots, and be sure to get a signed receipt and guarantee of work.

Shop Large Wool Rugs
Shop Wool Accent Rugs
Shop All Wool Rugs
See All Guides
Read More Home Guides
Learn More about Area Rugs
Published February 17, 2011
Updated March 31, 2015