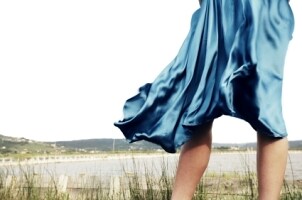 Like all clothing, you'll want to make sure you follow the instructions on the care label to ensure the longest life for your skirts. Use hangers with clamps or clips to let long skirts hang by their waistbands and avoid creating wrinkles; wash a classic black skirt with similar colors or by itself to avoid bleeding onto other fabrics. Here are a few other tips on caring for skirts that you'll want to be aware of.
Cleaning Women's Skirts:

Leather or suede skirts. Wipe your leather skirt with a damp cloth after wearing it; brush your suede skirt with a suede brush. Both leather skirts and suede skirts should be dry-cleaned when needed.

Denim skirts. Turn your denim skirt inside-out for laundering. Then, wash it in cold water and dry on low heat. You can also lay a denim skirt flat to dry, since it can shrink in the dryer.

Wool skirts. Dry clean your wool skirt as infrequently as possible. Store a wool skirt in a cloth garment bag with cedar or some other moth repellent. A silk skirt should also be dry-cleaned infrequently, and you should gently clean spots with a damp rag to avoid damaging the fabric.

Pleated skirts. Depending on the fabric, most pleated skirts can be laundered at home, but having pleated skirts professionally cleaned and pressed will ensure that you have neatly pressed pleats.
Women's Skirt Tips:

Keep at least three women's skirts for warm weather and three women's skirts for cold weather so you're prepared for every season. A long skirt made of cotton or linen is great for summer, while a black skirt that comes to the knee is appropriate for almost every occasion.

Take skirts, including pencil skirts, to a tailor if they don't fit your shape properly. A tailor can shorten the hem and, depending on the width of the hem, lower it. He or she can also take in the side seams or let them out, depending on the amount of fabric in the seam. Tailors are able to taper most skirts, including pencil skirts, and remove gathers or pleats. Be aware that bias-cut skirts can't be turned into straight skirts, however.

Buy Skirts
Back to Guides Directory