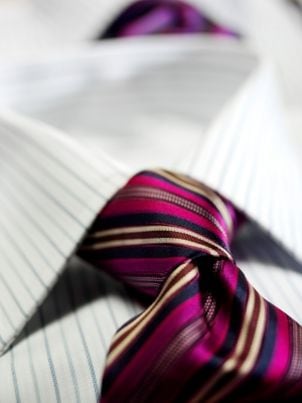 A beautiful addition to any wardrobe, silk ties are stylish and flattering. Whether you're headed to the office, an important business meeting or an evening out, a silk tie will look great with a suit or dress shirt. The delicate fabric of a silk tie, however, requires careful cleaning to maintain its shiny appearance. To ensure that your ties hold their forms and colors, there are a few tips to follow. Special attention when laundering, packing and pressing will keep your silk neckties in good shape for years to come.
Caring for Silk Ties:

Storage: Always untie your ties after wearing and hang them for storage or, if it is necessary to save space, place them loosely rolled in a drawer. Do not fold ties or leave them tied or crumpled, as they wrinkle very easily. Keep men's ties in enclosed areas and use cedar inserts or hanging accessories if there is a risk of moths.

Packing for travel: When traveling, either hang men's ties in a garment bag or store them rolled up in the breast pocket of a suit. If you pack them rolled, remove them and let them hang overnight before wearing to allow any wrinkles to relax.

Cleaning: Neckties should be washed by hand with cold water and gentle liquid laundry soap. Hang the tie to dry and do not wring it out. Avoid dry cleaning your silk ties, since dry cleaning involves harsh chemicals. Remove stains immediately by gently blotting with club soda. If the stain contains grease, sprinkle a little talcum powder or cornstarch on it and leave it overnight before brushing away carefully.

Steam wrinkles: It is best to avoid ironing neckties because irons are likely to scorch or discolor silk ties. If you don't own a clothing steamer, hang ties in the bathroom during a hot shower. If you must iron your tie, place a towel beneath it, cover it with a slightly damp towel and use the lowest temperature setting on your iron. Allow the towels to dry before lifting them from the tie.

Clips and tacks: Holes made in silk neckties from tie tacks can remain forever and disfigure the tie. It's best to choose tie clips over tie tacks, but if you choose to wear a tie tack, remove it immediately after wearing. You'll also want to remove tie clips immediately after wearing to avoid leaving a lasting crease.

Buy Ties
Back to Guides Directory