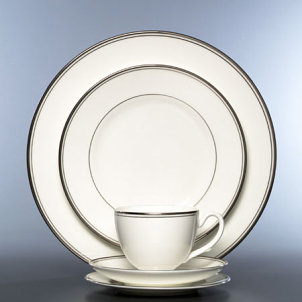 Things You Need:
Dish protectors
Clean dish towels
Gentle dish soap
Gentle dishwasher detergent
The way you care for your formal dinnerware and fine china often depends on the material your dinnerware is made of. While antique dishes and bone china dinnerware will need more gentle care than stoneware place settings, you'll still want to preserve all of your tableware. Here are some tips and tricks to help you take care of your formal dinnerware and keep it looking its very best for years to come.
Hand-washing Fine Dinnerware:

Wash your formal dishes carefully. Wipe your porcelain dinnerware or formal china dinnerware clean by hand using gentle dish soap and lukewarm water. Be careful not to use forks or metal tools to scrape food from your china or porcelain dinnerware; these can scratch plates and bowls or chip off enamel.

Take time to dry your dishes. Use a soft, dry dish cloth to wipe your tableware completely dry. This prevents water spots and keeps your formal dishes, especially bone china dinnerware, from sticking together in the cupboard.
Washing Fine Dinnerware in the Dishwasher:

Take care when using a dishwasher. Some earthenware and stoneware dishes can be washed in the dishwasher using the short or gentle cycle and a gentle dishwasher detergent. Load the dishwasher carefully, making sure none of the stoneware is rubbing or clanking together. Check the care instructions on the packaging before washing any fine dinnerware in the dishwasher.

Be aware of scented detergents. Lemon-scented detergents have a tendency to be more abrasive and are best avoided when caring for earthenware and other formal dinnerware.

Give your dishwasher plenty of time to dry dishes. Allow the drying cycle to complete and wait to unload the dishwasher until your dinnerware has cooled down and is completely dry. You won't burn yourself unloading hot china dinnerware or have to finish drying damp dishes.
Storing Fine Dinnerware:

Store your fine dinnerware in dish storage cases or in a china cupboard. Place dish protectors between each dish to keep the pieces from scratching or scuffing each other. If you don't have dish protectors on hand, linen cloths or even tissue paper will also protect your fine china.

Buy Formal Dinnerware
Back to Guides Directory