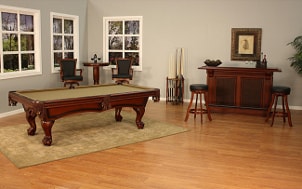 Things You Need:
Pool table brush
Vacuum with brush attachment
Furniture polish
Soft cloth
Adding elegant and entertaining billiard tables to your home or business can be very exciting. Not only are billiards tables fun to play, but they also add fashion to your living room or den. The concept of billiards or pool is easy enough to learn yet challenging enough that you can spend the rest of your life mastering the game. A billiards table is a wise investment. However, you'll need to be proactive when caring for your billiards table in order to keep it beautiful and playable. Keep your billiards tables looking brand-new by following these instructions on how to care for billiards tables.
Caring for a Billiard Table:

Clean the top of your billiard table. The cloth on top of your billiards table will become worn in some places after use and gather lint and dust. You can make it look brand-new again by brushing the top of your pool table on a regular basis. Make sure you always brush your billiard table cloth in the same direction. Brushing your billiard table will remove chalk, dirt and lint from the tabletop. Once you've finished brushing the whole billiard table, get out your vacuum with the brush attachment to vacuum up the debris you've freed from the billiard tabletop. Make sure you vacuum in the same direction that you brushed. Protect your billiard table by covering it when you're not playing more billiard games.

Dust and polish the legs and rails. If your billiards table is made out of wood, use regular furniture polish on it to give it an extra shine. Wipe it down with a soft, clean cloth first and then use the furniture polish. However, you'll need to be extremely careful that you don't get any furniture polish on the cloth of the pool table as it will get stained. If your table game is made from plastic, use a soft and clean cloth to wipe it down for dust and other lint.

Polish the cue balls. Not many people consider cleaning the cue balls as part of their table game maintenance. However, once you've spent time cleaning your pool tabletop, you don't want to put a dirty cue ball back on the clean top. Wipe them down with a soft cloth to get rid of dirt and lint. This will help to keep your billiard tabletop cleaner longer.

Take care of your cue sticks. Never ever get your cue stick wet. All you need to clean your cue stick is a soft, dry cloth. Use it to remove excess chalk, dust or fingerprints from the cue stick.

Buy Billiard Tables
Back to Guides Directory