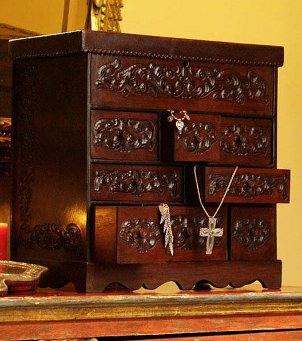 Whether given to you by a family member or purchased in an estate sale, antique jewelry has survived long enough to be yours partly due to proper care. If you are attentive to the care of a newly acquired antique ring, brooch, or bracelet, then you may be lucky enough to be able to pass the piece down to a new generation someday. Use these tips to care for estate jewelry and antique baubles.
Caring for Antique Jewelry:

Proper jewelry storage is an important part of caring for a piece thoughtfully. Don't return home from an estate sale and dump rings and necklaces into a pile on your dresser. Jewelry boxes aren't just decorative furniture; they feature slots and fabric-lined compartments to securely hold expensive pieces of jewelry. Compartments and slots keep each piece separate from the others, which prevents scratches and other damage.

Even if it has been professionally cleaned before you purchased it, you'll still need to invest in regular cleanings to protect pieces from damage. You may want to clean your antique jewelry right away when you get it home. Buildup can loosen stones and discolor enamel, so clean your antique jewelry regularly. Find out all you can about your jewelry and its gemstones before cleaning it at home. It is fine to gently scrub a diamond and gold ring with a soft toothbrush in warm, soapy water, but pearls should never be immersed in water or scrubbed with a brush. Some soft stones should only be polished with a dry, soft jewelry cloth. For more information about cleaning different pieces, read our jewelry care guide.

If you have a lot of sterling silver jewelry, then you may want to invest in an anti-tarnish jewelry box. These boxes are lined with chemically treated fabric that slows the process of oxidation. You will still need to clean your sterling silver jewelry with a silver polish from time to time, but not as frequently as you may need to if you store the jewelry in a standard jewelry box.

Wear your antique jewelry often. Many gemstones benefit from being worn. Some gemstones, like opals, are prone to drying out. Wearing them often can prevent excessive drying. Don't wear your antique jewelry when handling chemicals or when swimming.

Buy Estate Jewelry
Back to Guides Directory