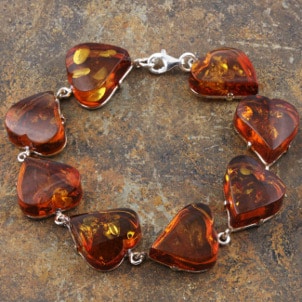 Things You Need:
Two soft cloths
Virgin olive oil
Amber is an attractive but delicate ornament. Popular for its deep golden color and natural patterns, amber decorates both antique and modern jewelry, from beaded necklaces to rings and earrings. Handmade amber jewelry from places like Poland, Thailand and India lends an eclectic look to any outfit. This jewelry requires special care, as amber is soft and can be easily damaged by even mild chemicals. If exposed to sudden changes in temperature, amber can crack or even break. For these reasons, care should be taken to protect amber jewelry when wearing, cleaning and storing it. With proper care, your beautiful jewelry will last a lifetime.
Caring for Amber Jewelry:

Protect amber from chemicals. Avoid using hairspray and makeup whenever you are wearing amber jewelry. The chemicals in these products can damage the stone. Instead, apply them before you put on the jewelry. Perfumes can also damage amber and should not be applied in an area where the jewelry is to be worn. For example, if you are going to wear an amber necklace, dab your wrists with perfume instead of your neck.

Clean your amber jewelry. Use a very soft cloth dampened with lukewarm water. Felt is an ideal material for cleaning amber. Do not use soap or any chemical cleaners, as these things can damage the soft amber. Also, do not soak amber in the water; it may absorb the liquid.

Polish amber jewelry. Use a soft cloth and some virgin olive oil to polish amber. Again, felt works well for this but does not wash well, so use a new felt cloth each time. Wipe clean with a dry cloth.

Keep your amber jewelry in a soft cloth or satin bag when you are not wearing it. This will prevent it from being damaged by other jewelry items and will protect any silver chains or settings on the jewelry from becoming tarnished.
Amber Jewelry Tip:

Do not use ultrasonic jewelry cleaners to clean your amber jewelry, as they have been known to crack amber.

Buy Handmade Jewelry
Back to Guides Directory