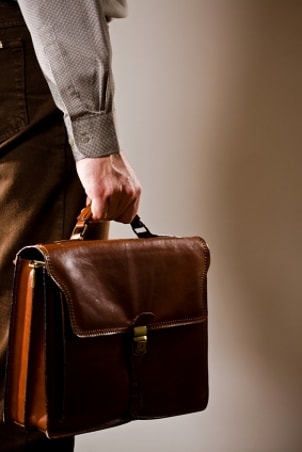 Things You Need:
Leather conditioner
Soft, clean cloths
The durability and timeless style of a leather briefcase is undeniable in the business world. Whether it's a modern red leather briefcase or a classic black leather model, both new and well-worn briefcases are subject to oxidation, moisture, chemical damage and abrasions. Cleaning your briefcase with soft cloths, water and leather conditioners will maintain the briefcase's appearance while preserving its soft grain and pliable texture. Keep reading to learn the basics of caring for leather briefcases.
Caring for Leather Briefcases:

Condition the leather briefcase every six months. Use a conditioning product designed specifically for leather. Most leather conditioners are easily applied to leather totes and briefcases with a sponge applicator or by using a soft cloth. After rubbing the leather conditioner over the entire leather surface, wipe the leather with another clean, soft cloth to remove any excess conditioner.

Remove moisture from leather briefcases quickly. Whenever moisture gets on your leather briefcase or handbag, use a dry cloth to blot -- not rub -- moist spots as quickly as possible. Moisture from winter weather that may contain ice melt or salt-based products should be blotted with a damp cloth. Allow the briefcase to air-dry.

Allow rain-soaked cases to fully air-dry. Lay the briefcase on a table or floor so the briefcase is flat, without wrinkling or slouching. Do not place it near a heater, radiator or in the clothes dryer, as the heat from these things will damage the leather. Stuff your leather briefcase bag with wadded newspaper to help the briefcase hold its shape better and dry the inside of the bag.

Wipe down the inside of the leather briefcase once a month. Cleaning the inside of the leather briefcase is important, too. Use a damp cloth to wipe down the lining of the leather bag to remove dust. Prop the briefcase open and allow the interior to naturally air-dry.

Store leather briefcases when not in use. When you're not using your leather briefcase, place it in a closet away from sunlight and dirt. You might want to put it inside a box or a fabric bag to further protect it. Briefcases should not be kept next to a heat source, such as a radiator or furnace vent.
Tip from Overstock.com:

If you live in a hot, arid environment, clean and condition your leather briefcases more frequently, such as every three months instead of six, to hydrate the leather and keep it supple. The same rule applies to leather totes and handbags.

Buy Leather Briefcases
Back to Guides Directory