How to Buy the Right Drain for Your Bathroom Sink
by Staff Writer
A new bathroom sink can completely transform and update your bathroom. Whether you choose a dramatic red vessel sink or a simple antique pedestal sink, a new bathroom sink will make a big difference in the look of your bathroom. Smaller items like the best bathroom sink drain and faucet will also make a statement. Many bathroom sinks will include parts for the sink drain, but some vessel sinks will require you to select your own drain. If you choose to purchase a bathroom sink that requires a separate drain purchase, then consider these tips to help you find the right sink drain for your bathroom.
Buying a Bathroom Sink Drain: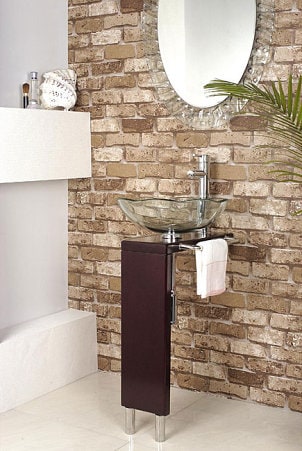 Shop Drains ▸
Types of drains:

A variety of bathroom sink drains are available, but the two most common types are grid drains and pop-up drains. Pop-up drains have a traditional design and can be opened and closed using a lever located at the back of the faucet. A grid drain is similar to a shower drain. Grid drains can't be closed, but they do prevent objects from getting stuck in the drain. Grid drains are ideal for bathroom sinks that do not have an overflow hole, such as a vessel sink.

Drain size:

Measure drain openings carefully or check the sink manufacturer's instructions before shopping for drains. Choose a drain that is the same size as the drain opening in the sink. The drain or grate needs to be larger than the opening in order to cover the hole completely when installed.

Assembly requirements:

Different drains have different installation requirements. Depending on the bathroom sink you choose, you may need a mounting ring. A mounting ring provides stability when mounting vessel sinks and countertop sinks.

Drain materials:

Bathroom sink drains are available in a variety of materials and finishes to match your other bathroom fixtures. Choose from polished brass, copper, nickel and chrome. Before shopping for a bathroom sink drain, look at the current fixtures in your bathroom and consider the color scheme. A stylish bathroom with matching fixtures will add value to your home and give you a more enjoyable morning routine.