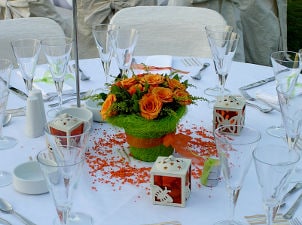 Things You Need:
Reception venue
Bulk flowers
Artificial flowers and plants
String lights
Craft supplies
Wedding favors
Centerpieces
Candles and holders
Housewares
Holiday decorations
It's no secret that the perfect wedding celebration is no small affair, but having the reception of your dreams doesn't need to break the bank. Through smart shopping and careful wedding planning, you can keep wedding and reception costs down without sacrificing beauty or quality. The process of shopping for your reception decorations on a budget will be similar to the other wedding shopping you have done, from dresses to invitations, weighing what you want with what you can afford to find perfect solution.
Saving on Your Reception:

Selecting a reception venue that has a lot of natural beauty or character will reduce your need for decorations. Wedding receptions that are held at public gardens and venues with attractive and historical architecture don't require the same amount of decorations as blank and sparse spaces. These venues already often have sculptures, fountains and a wide variety of beautiful flowers and will make your reception seem more decorative without adding many of your own wedding decorations.

Saving money on flowers and plants can spare your reception budget. Fresh flowers and plants are the most popular choice for use in wedding receptions due to their lively, luxurious nature and fabulous variety of fragrances. Fresh flowers can also eat through your wedding budget very quickly. If you choose to use fresh flowers to decorate your wedding reception, then you might consider purchasing flowers and plants in bulk and assembling centerpieces, corsages, boutonnieres and bouquets yourself. If you feel overwhelmed by the idea of assembling your own floral arrangements or you want to further cut down your budget, you might consider using artificial flowers and plants. Artificial flowers and plants will not only save you money, but they are generally stress-free because they are always ready when you need them and you can keep them forever or sell them after the wedding to another budget bride.

Craft supplies can save you a lot of money when decorating for your wedding reception. While purchasing reception decorations pre-made or having a rental company do the decorating for you is popular, it can also be very expensive. Saving money on all the little details will add up in the end and let you stretch your budget further. Craft supplies such as lace, tulle, beads and glitter and home decor items such as decorative containers, candles, frames, votives and mirrors can all be purchased affordably and used to create decorative centerpieces and ornamental embellishments. You can also shop discount housewares for serving trays, baskets and tablecloths to use at your reception. You can be as creative as you like when you make your own wedding decorations, or you can keep it simple with items that require minimal assembly.

Holiday decorations can be used to affordably add to your reception ambiance. Whether your wedding is near a holiday or not, Christmas, Valentine's Day and Easter decor items can be a great addition to your reception. Depending on the style of your wedding, you can even use Halloween decorations to make your reception unique. Christmas lights in any color are great to use as reception decorations, and they are also quite affordable. Candles, containers and centerpieces from various holidays can also be worked into wedding decor quite easily. To save even more money on these items, consider shopping sales after holidays if the timing permits.
Wedding Reception Tips:

You can save money by combining wedding favors with reception decorations. Favors such as candles, frames, mirrors and small wrapped candies packaged in tulle or cellophane make great centerpieces and sending them home with guests is a great way to get them off your hands when the wedding is over.

You might consider investing in a wedding reception craft book. The right book will pay for itself in the long run with a myriad of wedding planning ideas on how to save money.

Buy Wedding Planning Supplies
Back to Guides Directory