How to Buy Outdoor Furniture That Lasts
by Angela Tague

For many, a backyard patio is an oasis. It's an extension of our living space, complemented by the joys of Mother Nature. Choosing durable outdoor furniture that will last several seasons is essential to fully enjoy this part of our home. Patio furniture exhibiting strength, weather-resistant qualities and top-notch craftsmanship will welcome summer breezes and afternoon gatherings for many years.
Long-lasting Outdoor Furniture: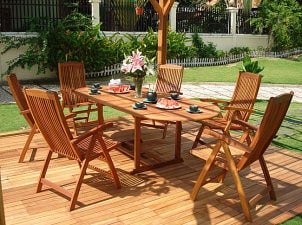 Shop Patio Furniture ▸
Wood outdoor furniture:

Choose long-lasting wood for natural-looking outdoor furniture. Eucalyptus, cedar and teak wood can withstand outdoor weather better than wicker, pine or oak. Teak has a 100-year durability rating, and cedar and teak woods are naturally resistant to insect damage.

Metal outdoor furniture:

Pick cast iron, wrought iron or aluminum for metallic furniture. Check for rust-resistant powder-coating on cast-iron and wrought-iron furniture. Aluminum outdoor furniture sets are naturally rust-resistant and last a long time.

Cushions and pillows:

If you plan on buying cushions for your outdoor furniture set, select weather-resistant cushions with a high UV rating and ventilation slits to avoid sun and moisture damage. Mildew-resistant acrylic fabric is long-lasting.

Sturdy construction:

Outdoor furniture constructed using dowels, pegs, stainless-steel screws or brass screws will last much longer than furniture held together with glue or staples.
Tips:
Any type of patio furniture will last longer with routine care. During cold weather seasons, when the patio is no longer in use, store your patio furniture in a garage, basement or garden shed.
During warm weather, wash seat cushions once a month with one part bleach to 10 parts warm water and a few drops of dish detergent. Wash and wax wrought iron a few times a year.
Aluminum outdoor furniture doesn't require special treatment because it forms a natural protective oxide-layer when it is outdoors. Rinsing dust from aluminum furniture with a garden hose is sufficient.