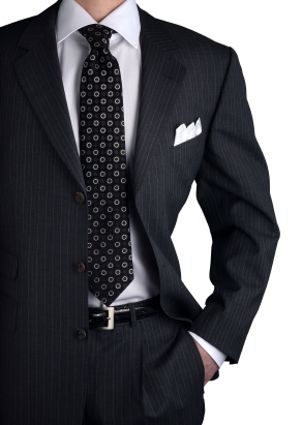 They hold up your pants, and let you express your style: Men's belts are an important part of every wardrobe. With a bold buckle or modern design, a belt can add an elegant, casual or funky touch to any outfit. Whether you're looking for a men's leather belt, men's dress belt or designer belt, knowing a few things before buying a belt will help you find a style that looks good and fits perfectly. Read on for tips on buying men's belts.
Buying Men's Belts:

Styled for work: If you want a men's belt to wear primarily with dress pants and suits for work and special occasions, a men's black belt is your best choice. Look for a men's black leather belt with a shiny silver buckle to make a statement while still looking professional. Match a men's black belt to your dress shoes or purchase a men's brown belt to go with brown dress shoes or boots. To save money and time, especially if you change clothes and shoes when you get home, purchase a reversible men's belt that reverses between black and brown. A men's dress belt made of vinyl or suede is also a good choice.

Casual for everyday wear: The same men's black leather belt you wear to the office will also look great with jeans or twill pants on the weekend. To complement a casual button-up, buy a men's brown belt that matches a pair of brown loafers or boots. A men's leather belt in grey or tan also works well with khaki pants and casual shirts, and a reversible men's belt gives you the options you need for a put-together look. You'll always want to make sure your belt matches your other men's accessories. This will keep your outfit polished and clean, no matter how casual.

Pick a stylish buckle: There's no easier way to show off your personal style than with your men's accessories. A men's belt buckle, especially a distinctive one on a designer belt, can give your look personality. Look for an oversized men's belt buckle to wear with jeans and sneakers for a casual weekend or buy a designer belt with a trademark logo buckle to show your impeccable taste.

Buy Men's Belts
Back to Guides Directory