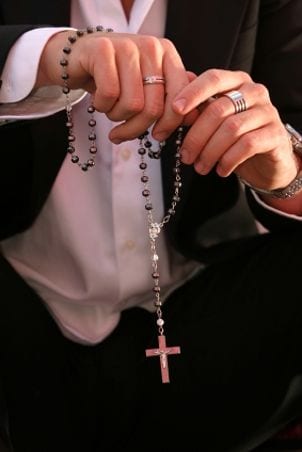 It's important to have meaningful jewelry in your collection, and few pieces are as symbolic as religious jewelry. When shopping for jewelry that will become a special part of your fashion wardrobe, consider handmade religious jewelry. Handmade jewelry is crafted with care and attention to detail, lending a high level of quality to cross necklaces, star rings and pentacle earrings.
Handmade Religious Jewelry:

Search for meaning: Choosing religious jewelry takes some careful thought. You may already know which religious symbols mean the most to you or you may be new to your faith and looking for just the perfect way to express it. Give it some thought and do a little research if you aren't sure. If you are choosing religious handmade jewelry as a gift, be careful to choose the symbols that will represent the recipient's personal beliefs.

Think about metals: From fashion jewelry to designer jewelry, the materials used make a big difference in the style and the value of the piece. Handmade religious jewelry is available in many metal choices and with a variety of attractive embellishments. Silver is popular in handmade jewelry because it is shiny and malleable. Sterling silver is also affordable and, if it is cleaned regularly to remove tarnish, will be beautiful for years. Look for silver cross pendants, earrings and rings. Gold religious jewelry is a fabulous choice because it has such a high level of quality and durability.

Consider embellishments: Gemstones and beads add a lot of style and color to handmade religious jewelry. Look for bright purple amethysts, deep red rubies, stunning blue aquamarines and pretty pastel pearls. Crystals and beads make handmade jewelry sparkle. Look for beaded religious necklaces and crystal bracelets with religious charms. Many jewelry artisans use recycled glass to add sparkle to their religious jewelry while conserving resources. Glass glows beautifully when the light hits it and is available in many colors. Look for handmade religious jewelry that will match your current wardrobe and add color and shine to a variety of outfits.

Buy Handmade Religious Jewelry
Back to Guides Directory