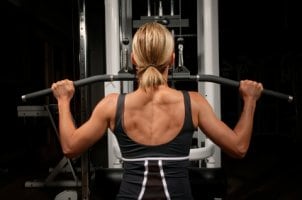 Buying your own exercise equipment can be a great long-term investment. As opposed to paying for a membership to a gym, you can have the fitness and exercise equipment in your own home and work out whenever you'd like. The upfront expense of home gym machines will become a bargain over time because you won't be paying any monthly fees or membership charges. The fact that you can work out whenever you like in the comfort of your own home is also a big bonus. Because exercise equipment is a substantial investment though, it is important to make a few considerations before you purchase your fitness equipment.
Instructions:

Think about exactly what you want to accomplish with your exercise equipment. Are you simply trying to lose weight or are you trying to build muscle? If you're just trying to lose weight, something as simple as a treadmill can produce results. If you're trying to build muscle, weight equipment might be a good place to start. Your long-term goals should influence exactly what type of home gym machines you should buy.

Check for reviews on the exercise equipment you are interested in. All exercise equipment is not created equal, and some manufacturers produce higher quality equipment than others. Read reviews by people who have used the specific equipment you're looking at and take them into consideration in your decision.

Consider the price. In many cases, less-expensive equipment will get the job done. On the other hand, high-end equipment may offer more features and will be built to withstand more vigorous use. Think about exactly what you want out of your equipment and what qualities you are willing to sacrifice to meet your price goal.

Measure the space in the room where your exercise equipment will go. Know exactly what you have space for before you start shopping and develop a plan to maximize the space you have. Remember that some equipment is designed to fold up when not in use, allowing you to make better use of the space you have.

View All Fitness and Exercise
Back to Guides Directory