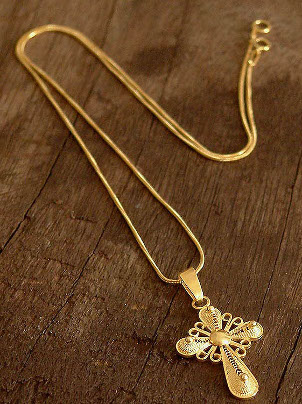 A piece of religious jewelry reminds and quickly notifies family, friends and strangers of your personal beliefs. Cross jewelry also serves as a personal reminder of faith and commitment. Religious necklaces, such as cross pendants and cross necklaces, are great religious jewelry choices because they are versatile and come in many styles. You can splurge on a nice petite gold cross necklace to wear every day or choose several cross pendants and religious necklaces to wear with different outfits and jewelry pieces. Cross jewelry necklaces and pendants also make great gifts. Our tips can inspire you to choose the perfect religious pendant or piece of cross jewelry.
Buying Cross Necklaces:

Consider unique designs: Classically-styled cross necklaces are available, but unique and unconventional cross pendants are also fun to add to your jewelry collection. Religious pendants made of wood, wrapped in wire or covered in unique gems are eye-catching and collectible. Buy a dog-tag necklace with a cross design on it or compare swirling and asymmetrical necklace pendants that are stylish and interesting but still display your religious faith.

Add or choose engravings: Engraved cross necklaces are even more meaningful than plain pendants and can say anything you feel or believe. Some cross necklaces are available already engraved with scriptures, phrases or significant words. You can also have your cross pendant engraved after you purchase it. Engraved cross necklaces make wonderful gifts for both men and women.

Contemplate sparkle: Cross pendants with diamonds, gemstones or pearls are luxurious and perfect for dressing up your Sunday best. Buy a cross necklace covered in diamonds or select a pendant with one gemstone in the center. Cross necklaces incorporating your birthstone are incredibly personal.

Opt for masculinity: Masculine cross pendants made of titanium or stainless steel are appropriate for both men and women. Hang a masculine cross pendant on a long chain or display it on leather cord. Masculine cross jewelry can be paired with casual outfits and other strong jewelry selections and worn every day or on special occasions. A large cross necklace with black onyx stones is a luxurious gift for any Christian man.

Buy Cross Necklaces
Back to Guides Directory