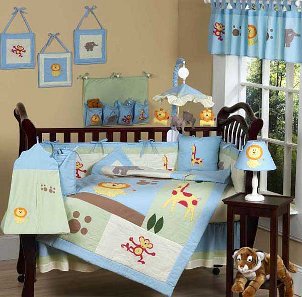 If you're shopping for cradle bedding, you're probably expanding your family or celebrating someone else's decision to welcome a child into their life. Whatever the reason you have for looking, these tips on how to buy cradle bedding will help make your decision easier.
How to buy Cradle Bedding:

Purchase bedding to match the cradle. It's important to test any crib set before leaving your little one alone to sleep. Baby bedding should fit snugly so the sheet can't bunch up or wrap around a sleeping baby. Cradles come in different shapes and sizes, but each shape tends to be a standard size. If, for example, you've chosen a round cradle, then make sure you choose a round baby bedding set.

Take note of the colors and overriding themes in the nursery. Just because you have a baby girl doesn't mean you're limited to pink; consider green or yellow baby bedding or bright primary colors. If the new mom has chosen a Noah's Ark theme, then animal-print bedding is a fun choice, and if the nursery features a jungle theme, consider leafy green prints or a monkey motif for cradle bedding.

Choose a set. Cradle bedding is often sold in a set that includes a sheet, duvet cover, dust ruffle and, sometimes, a pillow case. Keep in mind that blankets, comforters and stuffed animals are decorative items in a cradle and should be removed before the baby is laid down for his nap. Babies don't need pillows, and a long-sleeve sleeper is a better choice than a comforter.

Decide what materials you like. Flannels, cotton, silk and even satin are all choices these days. Are you likely to pass the bedding down to a friend or family member? Spending more on a luxurious set might be worthwhile. If this is the last baby in your group of friends or you're looking for places to keep the budget in check, then consider more economical cotton sheets; they can be just as cute, and baby will never know the difference!

Buy Crib Sets
Back to Guides Directory