by L. Sefcik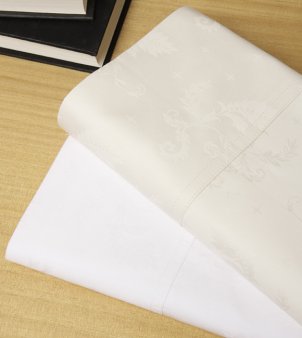 Cotton sheets are the natural choice for those who want a low-maintenance, breathable fabric that wicks away moisture from the skin. Natural cotton sheets are less prone to staining than cotton-synthetic blends and release dirt easily in the wash. While all 100-percent cotton sheets offer similar benefits, some simply feel better against the skin and may have a longer life in your linen closet. Take a look below to learn how to buy cotton sheets.
Buying Cotton Sheets:

Check the thread count. This is the number of yarns that are woven together horizontally and vertically in one square inch of fabric. It's possible to see the weave on cotton bedding with lower thread counts, but bedding with higher thread counts is woven so tightly they appear to have a uniform finish. In cotton sheets with a thread count of 750 or more, you might not even see the weave of the fabric at all. Higher thread counts yield a smoother, softer and sturdier fabric, which is a desirable quality in cotton sheets.

Note the weave type. A standard weave has one thread over and one under, while a pinpoint weave has two threads over and one under, resulting in a slightly softer sheet. Sateen weaves have four threads over and one under. While not as durable as standard-weave cotton sheets, sateen cotton sheets have a distinctly luxurious texture and glossy luster. For a more distinctive weave, choose jacquard or damask cotton sheets, which have ornate patterns that alternate between silky-soft and coarse, matte textures.

Pick an appealing texture. Muslin cotton sheets, which usually have a thread count of 140 or less, have a rough texture and may be more appropriate for children's bedrooms or the bedding at your weekend cabin. Combed percale cotton bedding, which usually has a thread count of 300 or more, has a delightful satiny texture, perfect for guest rooms. For the best cotton sheets, choose those made with extra-long staple cotton. These will bear a label denoting them as pima, Supima or Egyptian cotton. Thread count being equal, any of these types of cotton sheets will feel noticeably smoother and heavier than similar-count peers.

Go for an entirely different feel. Flannel cotton bedding has a soft, fleecy surface and feels warm during the nippier months. Sold in 2-, 4- and 6-ounce weights, there's less emphasis placed on thread count than in weight of the fabric. Cotton knit sheets, sometimes called jersey knit, feel like your favorite T-shirt and conform to your bed with nary a wrinkle.

Get the right size for your bed. Sheet sets are made to fit twin, twin-XL, full, queen, king and California king mattresses of a standard height: 7 to 9 inches. If you have a pillow-top mattress, however, or use a mattress topper that adds substantial height, buy fitted cotton sheets with deep pockets. In addition, sheet sets usually include one or two pillow cases.

Buy Sheets
Back to Guides Directory