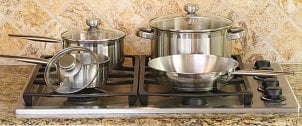 The key to choosing cookware lies not in price but in matching the material to your needs. Cookware can be made from a variety of products, and not all these products are built the same. In order to get the most efficiency and use from your kitchen, it is best to look for cookware that suits your preferred method of cooking as well as your desire to put in time keeping that cookware clean and useful. You want to get cookware that is not only durable but also efficient.
Buying Cookware:

What you like to cook determines the materials you should consider. What kind of cook are you? If you make a lot of casseroles or you spend a lot of time baking, buy ovenproof glass or ceramic cookware because it is relatively cheap and conducts heat evenly and slowly. If you do a lot of frying, avoid stainless steel because it tends to overheat and produce a lot of smoke. Cast iron tends to be less expensive than steel, and it heats slowly, making it much better for frying. Copper is great for stovetop cooking, but it is very expensive and difficult to maintain.

Utensils make a difference to your cookware. What kind of utensils do you typically use? Nonstick linings are very popular because they keep food from sticking without needing a lot of oil or fat. The thing you have to remember about nonstick cookware is that it cannot be used with metal utensils. Nonstick surfaces scratch easily and should only be used with plastic or wooden spoons and spatulas. Copper cookware is also prone to nicks and scratches and is best used with plastic, rubber or wood utensils. Cast iron can take metal and sharp utensils better anything else, but you may have trouble moving these pots around due to their heavy weight.

Be aware that different cookware will require different care. How much time do you want to spend cleaning your pots and pans? Ovenproof glass is great because it can go straight into the dishwasher, but be wary of placing most other pots and pans in the dishwasher. The tendency of stainless steel to burn easily will mean dark stains that you may never be able to remove. In order to avoid this problem, always use low heat on your stainless steel cookware and give it an occasional polish. Copper is beautiful when you buy it, but in order to keep that bright sheen, you must polish it regularly. Over time, the lining thins and you may eventually need to reline it or replace it.

Insist on durability if you do a lot of cooking. Copper will not be very durable if you don't maintain it properly. Aluminum cookware is durable, and the thicker the surface, the better its conductivity. Thinner aluminum is prone to uneven cooking, which can damage the surface over time. Stainless steel is also quite durable unless you do a lot of cooking with salt or acidic foods. These items create pits that further damage the ability for the surface to heat evenly.

Buy Cookware
Back to Guides Directory