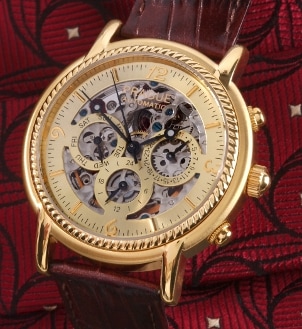 Antiques are as popular as ever, and antique watches are stylish, durable and collectible. Watches from other time periods are attractive and unique, and they come in many different varieties. Antique men's watches and women's watches are also made with age-old techniques and materials; these watches tend to last longer than wristwatches made today. Antique watches and vintage watches are time-tested and bring flair to your wardrobe. You can collect men's watches from the 19th century or ladies watches from the 1960s and 1970s. Wear your 1920s wristwatch to a nice dinner or accessorize with your vintage watch every day. Let us help you buy watches with vintage elegance and time-tested manufacturing.
Buying Antique Watches:

Choose a time period: If you are looking to buy watches from another time period, it can help to decide which decades and centuries intrigue you most. Consider women's watches and men's watches from several time periods and compare styles and manufacturing techniques. You might prefer the fashions of watches from the 1950s or the mechanics of watches from the 1850s.

Consider brands: Brand-name watches from decades past are a lot of fun to collect because they come with history and are often distinctly styled. If you have a favorite ladies watch brand or a menswear brand today, check out their company history and find out if antique watches are available from the brand.

Look for authenticity: When you invest in an antique watch, it is important to know that you are getting an authentic timepiece. There are several things you can do to make sure you are getting an authentic watch. First, know who you are buying from and compare a variety of the retailer's products and policies. It is also important to know a bit about the brand or style of watch you are purchasing. Finally, check product descriptions carefully. The word "antiqued," for example, is not indicative of a watch being an actual antique as the word usually refers to a style or design technique.

Buy Watches
Back to Guides Directory