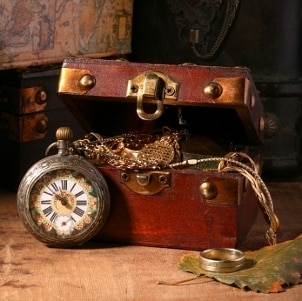 Jewelry is not just for women, and antique jewelry is making a comeback with men of all ages. Antique men's jewelry is available in many different jewelry styles, and you can wear men's antique jewelry in a wide variety of ways. When shopping for men's jewelry, it is important to consider quality. Many pieces of antique men's jewelry will last a lifetime and even become family heirlooms. Antique men's jewelry also makes a great gift. Let us help you select men's jewelry that will be perfect for your fashion preferences and lifestyle.
Buying Men's Antique Jewelry:

Rings: Many men's antique rings are available, and each offers something unique. Men's antique rings can be worn daily or on special occasions and also make great wedding bands. When shopping for men's antique rings, size should be a main consideration, as many antique pieces cannot be resized and most are one-of-a-kind. Choose from gemstone rings, gold rings and rings with interesting details and metalwork.

Bracelets: Antique men's bracelets are interesting and durable. Chain bracelets are versatile and can be worn with practically anything you own. Cuff bracelets may be embellished with gemstones and intricate details and are perfect for wearing to dressy evening events or giving as gifts. Choose men's antique bracelets that are made from long-lasting materials, such as gold or platinum.

Necklaces: Men's necklaces are becoming quite popular and can be worn to work, on the weekend or out at night. Men's antique necklaces are far from generic; they offer unique choices for men of all styles. Choose men's antique necklaces made of silver, gold or leather.

Cuff links: Cuff links are the best way to finish a nice outfit, and antique cuff links are extravagant and luxurious. Antique cuff links also make great gifts. Choose from antique cuff links with precious gemstones, unique settings and novelty designs.

Watches: If you are looking for a unique watch, consider men's antique timepieces. Antique wristwatches are quality, and many antique wristwatches have original parts. Antique pocket watches are great for collectors and can be given on birthdays and special occasions. When you are shopping for men's antique wristwatches and pocket watches, pay attention to quality and craftsmanship.

Buy Men's Jewelry
Back to Guides Directory