An electric fireplace delivers the warmth and ambiance of a traditional wood-burning fireplace without the concern of managing smoke, ash, and wood supplies. A wide selection of freestanding and built-in electric fireplaces also makes it easy to find the model that will fit your needs and keep you warm. Before you shop, compare heating capacity, installation requirements, and energy efficiency to choose the most economical solution for your space.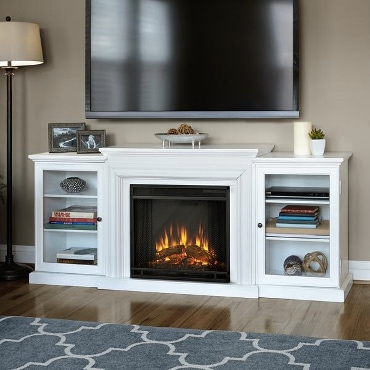 Measure the Space
Measure the square footage of the rooms you want to heat and the amount of space available for your electric fireplace. Most units use 700 watts to 1500 watts of power and produce 4,600 BTUs to 9,600 BTUs of heat. A 1500-watt fireplace can keep you toasty in colder climates and spaces up to 800 square feet, while a 700-watt model is suitable to heat 400 square feet in moderately cold climates.

Many manufacturers recommend plugging electric fireplaces and other space heaters into wall outlets rather than power strips to avoid common electrical hazards, such as suspended or exposed cords.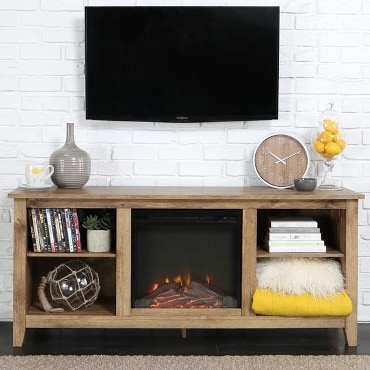 Choose a Heating Element
The most common heating elements for electric fireplaces are infrared quartz and forced-air fans. Instead of heating the air, an infrared fireplace transfers radiant heat directly to your skin and objects in the room, making it ideal for large spaces prone to heat loss. In a forced-air model, a fan circulates warm air from heated coils, which is useful for heating a small space or complementing a central air system. Whichever solution you prefer, make sure your electrical system can handle a 110- or 220-volt space heater.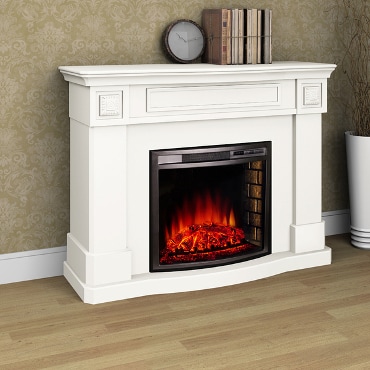 Estimate the Cost
When budgeting for your fireplace, you should also include the costs of installation and operation. While a more affordable model may seem attractive up front, you want to ensure your heater will keep your space warm while also being energy efficient. Freestanding heaters and many plug-in units are ready for use right out of the box, which cut back on up-front costs by eliminating installation, but they also tend to cost more initially. An average electric fireplace costs 7 to 13 cents per hour to run, compared to 20 cents or more for gas heating. Regardless of your model, electric fireplaces are often an affordable way to replace or complement your existing heating system.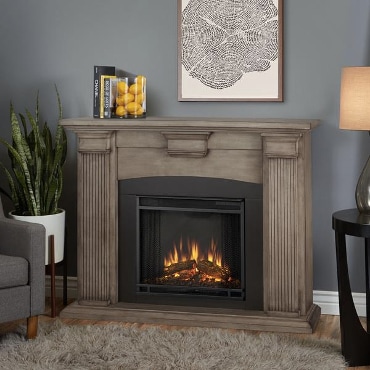 Review Installation Options
Choose an installation that fits your budget, living style, and space availability. Compact, plug-in models and corner units are practical for small apartments, easy to move from room to room, and don't require special permission from a landlord. Fireplace inserts and electric logs let you showcase the decorative beauty of an existing fireplace without the added maintenance.

If your home does not have an existing fireplace, there are a number of models with gorgeous wood mantels and shelving that make a great centerpiece to any living room. If you own your home, you have the option to install a built-in electric fireplace, which may require professional hardwiring but will save on space.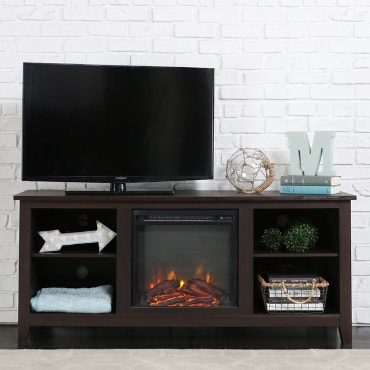 Choose a Style
Express your personal style with an electric fireplace that enhances your decor. Many units offer a display mode with the heating element turned off, letting you enjoy the visual impact of smoldering logs or flickering flames on warmer days. A wall-mounted fireplace can make an attractive focal point in contemporary settings, while a mantel-inspired design creates the look of a traditional fireplace on a flat wall. For a fun focal piece, you can even get a fireplace with multi colored flames that can change to match the season or your mood. To add more storage, consider an electric fireplace TV stand to store electronics, media, and books in one space-saving unit.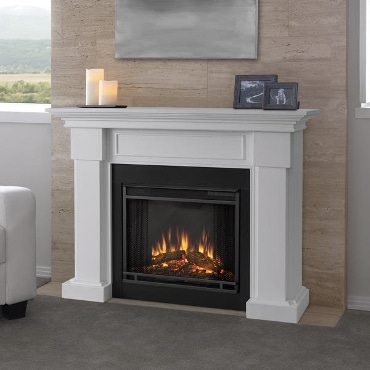 Explore Convenience Features
With optional convenience features, an electric fireplace can be as attractive and inviting as a standard fireplace while being easier to operate. Flame controls let you display a fire year-round, and some models include brightness, speed, and color adjustments. Thermostat controls are beneficial for regulating temperature, especially for energy-conscious heating, and a remote controlled model makes keeping cozy as easy as changing the channel.