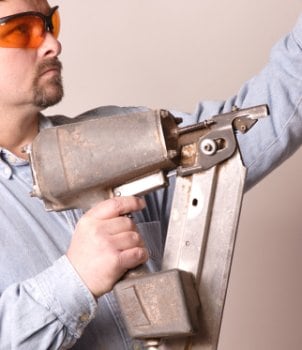 Using an air nailer for home improvement projects can speed up jobs requiring thousands of nails a day. A quality power air nailer, or nail gun, can accurately and consistently drive nails without leaving hammer tracks for projects ranging from roofing to installing wood trim and molding. Put the hammer away and choose an air gun, such as a power air nailer, to save energy and time and achieve even nail-driving depth. Buying an air nailer comes with many decisions, including which type of air tool will work best for a given project, the capacity needed and whether or not the nail gun needs to be cordless to access the project site.
Instructions:

Choose the type of power nailer needed to complete your project. Select a heavy-duty roofing nailer for applying shingles. Use a lightweight framing nailer to fasten large pieces of wood. Use a framing nailer also for interior home projects, including working with wood trim, molding and cabinetry. This type of air tool is great for multiple uses. A brad nailer is a choice for precision, lightweight work. A headless pinner is a good option for delicate work where you want to leave behind only tiny holes you can fill with wood putty.

Select a style of nail loading. Choose a stick nailer for household do-it-yourself projects. A stick nailer uses strips of 20 to 40 headed nails, keeping the unit light-weight for small projects. Consider a coil nailer that holds a string of up to 300 nails for professional usage or long-term projects requiring large amounts of nails.

Decide between a pneumatic or cordless air nailer. You'll need an air compressor to operate a pneumatic nail gun. Select a compressor with air pressure and air volume ratings that are equal to or greater than the requirements of the air nailer chosen.

Pick a cordless air nailer with a contained power source for mobility, lower-volume nailing jobs and work in tight spaces. Cordless nailers operate with a fuel cell or battery-operated miniature compressor mounted to the nailer unit.

Consider additional features. Ask if the nailer comes with a carrying case to keep it clean and protected. Look for large triggers to accommodate thick work gloves. Assess how to change nail sizes. Look for a simple process with few tools to make adjustments quickly and efficiently. Look for swiveling air connectors on pneumatic air nailers and compressors to reduce hose tangling. Some nailers require lubricating to avoid jamming. Select a nail gun that is maintenance-free for ease of use and storage.

View All Air Guns
Back to Guides Directory