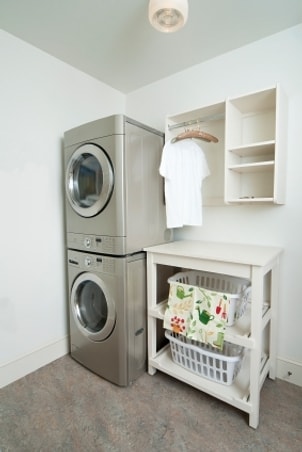 When you begin your search for a new washer and dryer, among the many things to be considered are price, load capacities and features. Knowing your family's laundry habits as well as your budget will help you choose the washer and dryer combo that is right for you. Large appliances like washers and dryers are the type of large purchase that you want to last for years to come. That's why it's important to make a smart choice. For more on how to buy a washer and dryer, look below.
Buying a Washer and Dryer:

Frequency of use: Consider how often you'll be using your new washer and dryer as well as what you'll be asking of your new appliances. Do you tend to wash heavy loads? Does your family toss clothes into the laundry hamper that are caked with mud and grease? Knowing your needs before you begin your shopping search will allow you to assess which features are must-haves and which ones are unnecessary.

Front-load vs. top-load: Understand the pros and cons of front-load and top-load washers. While top-load washers tend to be less expensive, the energy they expend may wind up costing you more over time. Front-load washers use and power more efficiently than top-load models, making them an attractive choice for energy-conscious families.

Energy costs: Look for the Energy Star symbol and estimates regarding how much each model will cost you to run per year. While some washer and dryers may be cheaper on the outset, they may cost you more over time. Also, consider the source of energy for your dryer, such as gas or electric power. Check your current hook-up so you can be certain which type of hook-up is required for your new dryer.

Measure before you buy: There's nothing more frustrating than buying a new appliance only to discover that it won't fit comfortably within your laundry area. When dealing with limited space, consider purchasing a washer and dryer all-in-one combo. This compact device houses both your washer and dryer in one convenient appliance. If the idea of washing and drying your clothes in the same appliance is foreign to you, opt for a stacked washer and dryer. A stacked washer and dryer combo features a washer located on the bottom with a matching dryer connected just above the washer. This type of appliance is ideal for areas that are narrow and don't have cabinetry above the laundry area.

Buy Washers and Dryers
Back to Guides Directory