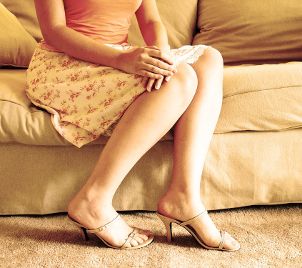 Stylish and versatile, skirts can be sophisticated or casual, depending on their cut and fabric. With pencil skirts, long skirts, short skirts and basic black skirts, you have many different options to fit your personal style and every event you attend. Read on for tips on buying women's skirts that flatter your body.
Buying Skirts:

Buy a pencil skirt for the office and special occasions. Pencil skirts are flattering on almost everyone because they are high-waisted and usually fall straight from the waist to the knees or mid-calf without flaring or tapering. Pencil skirts are especially slimming if you have a curvy tummy or bottom because they skim over these problem areas. Look for black skirts to look trim and slender or find a skirt in navy blue, charcoal or brown to mix things up.

Purchase long skirts for summer or winter. Long skirts made of cotton or linen are perfect for the beach, as swimsuit cover-ups or as cool alternatives to pants and shorts during the summer. Look for tiered bohemian styles you can wear with flats or leather sandals for an earthy look. Or find a simple white or cream-colored skirt that goes well with both T-shirts and dressy blouses. Black skirts, while not as cool during warm weather, are also flattering. For wintertime, buy long skirts made of wool and pair them with boots and tights to stay warm. If you are petite, choose women's skirts that hit at mid-calf or higher to avoid overwhelming your frame.

Look for short skirts to wear during all seasons. Short skirts that fall just above the knees are flattering on most women, and this length allows you to wear heels, boots or flats of different heights. Look for short skirts in cotton, denim or twill for a casual look. Buy skirts made of silk, linen, rayon and polyester for a smooth, professional look you can wear to the office or to special occasions.

Find A-line skirts to flatter your body. To draw attention away from curvy hips and thighs, purchase an A-line skirt, which is fitted in the waist and flares to the legs. An A-line skirt in cotton or linen will wash well and be comfortable during all seasons, especially in a flattering neutral color such as black, navy blue, brown, grey or cream. Full skirts with fitted waists are also flattering, especially when worn with high heels and a fitted cardigan or blouse. Look for full skirts with tulle beneath them for a dressy look you can wear to a fancy party or special event.

Buy Skirts
Back to Guides Directory