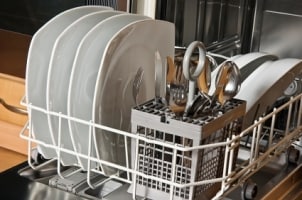 When buying a new dishwasher, you'll normally first concern yourself with price and style. While these two elements are important to the purchase of all large appliances, they're only a few of the factors to consider when buying a new dishwasher. Along with the standard considerations, such as capacity and energy use, it's important to consider the size and interior layout of your new dishwasher. Armed with information regarding size requirements and family usage, choosing your new dishwasher becomes an endeavor that is simple and possibly even enjoyable.
Buying a Dishwasher:

Decide on a dishwasher type before you begin. The built-in dishwasher, ideal for fitting into a specially formatted space within your cabinetry, is the most standard of all dishwasher types. The drawer dishwasher, which features several drawers for different capacities, is a relatively new style that allows you to wash only a few dishes per drawer when needed. For smaller areas, countertop dishwashers might be more feasible. What type of dishwasher you choose will likely be dependent on the size of your kitchen as well as your budget.

Understand capacity levels in dishwashers. While couples and those with small families might find an 18-inch dishwasher to be suitable for their needs, larger families will probably be happier with a 24-inch dishwasher.

Consider energy costs. Look for the Energy Star symbol on dishwasher models, which indicates that the dishwasher conforms to Energy Star requirements and will thus save you money each month on utilities. Energy Star-rated dishwashers not only save you money, but also leave a smaller carbon footprint over time. For more energy savings, look for features like quick wash, which prevents the dishwasher from overusing water and expending extra energy.

Compare dishwasher cycles. While most dishwashers will include standard cycle settings such as economy, light and regular, some dishwashers offer advanced settings, such as a rinse cycle, or settings for specific dishware, such as glass stemware. Although these settings are not necessary, they can add to the overall convenience of the dishwasher.

Look at exterior style and decor. If you would like your large appliances to match, exterior color and look can play a huge part in the dishwasher you choose. When you find a dishwasher with the features you desire, see if that dishwasher is available in various styles. If your dishwasher will set the stage for the other appliances, consider how easy or hard it will be to clean the exterior of the dishwasher. While stainless steel is a popular choice, it's also more difficult to clean.

Check out the interior layout. Consider how much you like (or dislike) the stacking ability of your current dishwasher and the placement of the silverware trays. You can find silverware trays inside the door of the dishwasher or within the pullout trays located inside the dishwasher.

Read reviews and consumer tips. While you will ultimately have to choose a dishwasher that will conform to your individual needs, reading reviews will give you a grasp on which models don't live up to their hype. This extra footwork can save you money on repair bills and annoyance with your new dishwasher in the end.

Buy Large Appliances
Back to Guides Directory