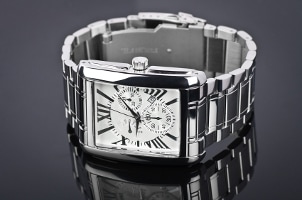 Buying a luxury watch is not always easy, especially considering the many different luxury watch brands and styles you have to choose from. A luxury watch should reflect your personal style, whether you have a sporty or elegant wardrobe. When buying women's and men's luxury watches, prioritize features and styles to make sure you get everything you want in a watch. Perhaps you want a luxury men's wristwatch with every possible bell and whistle. Maybe you prefer a ladies wristwatch with a variety of precious stones and metals. When you invest in a luxury watch, you deserve to have the functions and embellishments that you have always wanted. Consider these tips when shopping for luxury watches.
Buying Luxury Watches:

Brands: Although a plethora of companies offer women's and men's luxury watches, some well-known companies take extra care to create opulent timepieces. Choosing a men's wristwatch or a ladies wristwatch from a well-known luxury brand can give you peace of mind. Some luxury watch brands are promoted by celebrities. Consider top luxury watch designers when looking for a fabulous watch.

Materials: Fine materials are one of the main reasons to choose a luxury watch. Most watches incorporate stainless steel, leather or fabric watch straps, although many luxury watches may offer gold or titanium watchbands. Luxury watch cases are often embellished with gold, and diamond bezels are also available from many luxury watch designers. Many luxury watches have diamonds or other gemstones set into their dials. Consider the materials that will complement your personal style and enhance your clothing and jewelry collections when you're shopping for lavish watches.

Functions: Many men and women choose luxury watches for their advanced functions. Chronograph watches are common, and they allow you to track time on a stopwatch without settling for a digital timepiece. Other watches have subdials that allow you to track time in other time zones. Some luxury watches are designed specifically for sportsmen and offer altimeters, GPS tracking devices and barometers. Many luxury watches employ kinetic or solar-powered technology to save you the time and money of regular battery changes or winding. Choose luxury watches with the functions that will enrich your life.

Buy Luxury Watches
Back to Guides Directory