How to Buy a Lampshade
by Catherine Amo
Lamps are more than just functional pieces; they also contribute to the decor of a room. Their sizes vary, from table lamps to floor lamps, and a large variety of styles are available to suit any home decor. Lampshades are usually the focal point of lamps. They complement the base of the lamp, and they also hide the bulb and diffuse the light. To achieve the best effect with a lampshade, simplicity is the key. Ornate floor and table lamps are best complemented by simple lampshades, while a simple table or floor lamp can support a more decorative lampshade.
Buying Lampshades: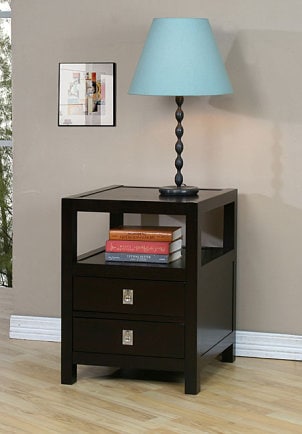 Shop Table Lamps ▸
Determine the width of the bottom of your lampshade.

To figure out how wide the bottom of your lampshade should be, measure from the bottom of the bulb socket to the base of the lamp. This measurement is the ideal width for the bottom of the lampshade. For bell, square, empire and coolie lampshades, the top of the lampshade should be half the width of the bottom of the shade.

Measure the harp to determine the height of the lampshade.

The harp is the element that secures the lampshade to the lamp. Measure the harp from the top to the bottom, and then use that measurement as the perfect height for a lampshade.

Consider the lighting effect you wish to create.

If you want enough light to illuminate a large area of the room, then choose a lampshade that has a light color and is made of thin material. If you want the light to be concentrated on a small spot, choose a darker shade.

Select a shape to match the base of the lamp.

Lampshades are available in coolie, empire, bell, oval, square and drum shapes. Drum-shaped lampshades look best with column bases; square and rectangular shades work well with square and rectangular bases; bell- and oval-shaped lampshades fit urn-shaped lamp bases; and coolie- and empire-shaped lampshades match all types of lamp bases.

Select a style to match the decor of the room.

For instance, select an elegant lampshade for your living room, a formal or understated lampshade for your office and a playful or colorful lampshade for a child's bedroom. Available design categories include traditional, Victorian, country and contemporary.

Choose a material.

Lampshades are available in glass, faux leather and parchment. There are also many lampshades made of fabric, such as shantung or raw silk, pleated fabric, cotton, string and linen.

Select plain or patterned lampshades.

Patterned lampshades can be a focal point of a room's decor or carefully selected to match the existing furnishing.