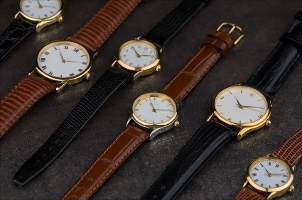 Everyone deserves a reliable, fashionable watch, if not several in many different colors and styles. You can choose from many watches in the luxury categories, and there are plenty of cheap watches to choose from, but what if you want to buy watches that are stylish and will last a long time without stretching out your budget? Discount watches are a fantastic solution; you can easily find high-quality men's and ladies watches in the discount watch category. Don't get stuck with a cheap watch that is practically disposable. Allow us to help you buy watches at a discount and you'll have high-end men's watches and ladies watches without overspending.
Buying a Discount Watch:

Clearance, overstocked and sale watches: Sale watches and watches on clearance often offer the best way to find your luxury watch at a discount. Many times, clearance and overstocked watches are limited-edition pieces that incorporate opulent embellishments, time-tested manufacturing and brand names. Check sale watches, clearance selections and overstocked timepieces when you are shopping for a wristwatch.

High-end materials: A durable watch must be made of time-tested materials. Some of the best materials used in watchmaking are stainless steel, leather, titanium, gold and platinum. Stainless steel is the most common because it is very durable and also very affordable. You can trust a discount women's or men's watch made of stainless steel to last a long time and perform under a variety of conditions.

Reliable decoration: Many watches are decorated with diamonds, gemstones, gold engraving and other luxury adornments. If this style suits you, you can easily find discount watches that match your preferences. Be careful when purchasing to understand what you are getting. Are the stones in your watch diamonds, rhinestones or cubic zirconias? Any of these stones can be acceptable watch embellishments, but they vary quite a bit in value.

Style: When you are buying a watch, you don't want to have to settle on style. A watch is something that you will likely wear every day, and it is important to choose one that will complement your entire wardrobe. Discount watches are available in many different styles, so it can be simple to choose the right one for you. If you have a certain brand or model in mind when shopping for watches, look for similar features rather than insisting on names. Some brand-name watches may not be available at a discount, but a more affordable watch may feature most or all of the same style traits. Be open-minded and discerning at the same time when shopping for discount watches.

Buy Watches
Back to Guides Directory