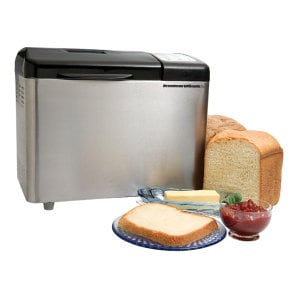 If you love homemade bread or you prefer to eat bread with no preservatives, a bread machine might be the perfect new addition to your kitchen and dining repertoire. Bread machines make it much easier to make your own bread at home. Rather than devote an entire day to measuring and mixing ingredients, kneading the dough, waiting for it to rise and then baking it, allow a bread maker to do most of the work for you. There are many different bread makers to choose from. Decide which features and benefits you want most in a bread machine.
Bread Machine Options:

Programmable settings. If you want a machine that will allow you to set it to mix so that it will knead your bread for you while you're doing other things, you can find a machine with programmable settings and timers.

Kneading paddles. Decide how well you want your homemade bread dough to be kneaded. If you want it to be kneaded as well as the dough at a bakery, you will need a machine with two kneading paddles.

Specialty loaf sizes. If you would like to be able to bake breads of different sizes and shapes, such as French bread loaves, pasta or sweet bread loaves, choose a machine that will allow for specialty loaf sizes. You can find machines with cycles for each of these breads as well as the gluten-free breads.

Gluten-free bread cycle. If you or someone in your household cannot eat foods with gluten, look for a bread machine that has a cycle for gluten-free bread. Regardless of which machine you ultimately choose, when you make gluten-free bread, you will have to scrape the dough from the sides of the pan while you knead it because gluten-free dough is sticky.

Specialty bread timers. If you plan to make specialty breads with extra ingredients, choose a bread machine with timers and chimes or beeping alarms. You will need to be able to add the extra ingredients at the right times for your bread to be its best.
Tips:

Look for a machine that won't "walk" along the surface of your kitchen counter when it is kneading the dough. Some machines will walk or slide during the kneading process.

If you want to control the darkness of your bread crust, look for a machine that has settings to allow you to control this.

Buy Kitchen and Dining Supplies
Back to Guides Directory