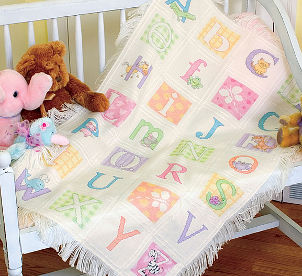 Shopping for baby items is fun and exciting. There are many choices in every category, and selecting baby gifts and baby items for your child's nursery takes some careful consideration. One of the most important baby purchases you'll make is baby bedding. When you are buying baby blankets, there are many factors to consider. Whether you are choosing a blanket to give as a baby gift or a baby blanket to wrap your infant in, it is a good idea to think about style, texture, convenience, material, size and shape. Allow us to highlight a few of the important categories so you can select baby bedding with confidence.
Buying a Baby Blanket:

Put comfort first. When you are shopping for a baby blanket, it is important to choose a blanket that you would love to cuddle with. Whether you are choosing a toddler blanket for your two-year-old or a baby receiving blanket for your infant, texture and material are both aspects that deserve consideration. Your little one might not be able to tell you if the blanket is scratchy, so look for blankets made of the softest cotton, fleece, flannel and bamboo to be sure that the blanket you choose will be comfortable.

Think about style. Baby blankets from baby receiving blankets to crib quilts will become a part of your home's decor. If you are selecting a blanket for your child, consider matching the nursery or another room in your house. If you are buying a blanket as a baby gift, choose a receiving blanket or toddler blanket that has a neutral hue and pattern.

Consider the environment. If you are someone who believes in living your life with a tiny, baby-sized carbon footprint, consider baby blankets that introduce your infant to the idea right from the start. Environmentally-friendly fabrics such as bamboo and organic cotton are sustainable and chemical-free. Not only does this make them good for the earth, but it also makes them healthier choices for infants and toddlers.

Buy Baby Blankets
Back to Guides Directory