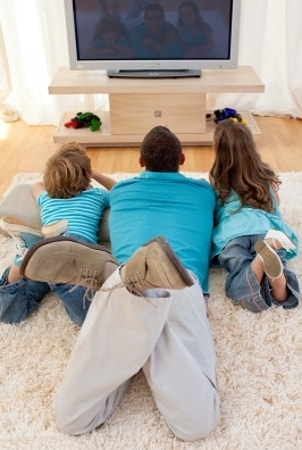 A cheaper alternative to taking the whole family out to the movies is to watch DVDs at home. Having a library of DVDs to choose from lets you and your kids pick their entertainment. A DVD library is a great resource for entertaining when your children have friends over, too. Having children's DVDs at home also lets you control what your kids are watching. You can give your kids a variety of children's movies and TV shows to enjoy that you're sure are appropriate for them. Here are some tips for building your children's DVD library.
Building a Kids' DVD Library:

Create a kid-friendly entertainment space. Organize an appealing space where DVDs will be watched. Use a TV large enough to allow the whole family to see it easily from around the room. Create a comfortable viewing space with cushions, couches and soft floor coverings.

Place some durable DVD storage near the TV. A durable DVD cabinet or bookcase at their eye level makes it easy for kids to pick out a children's movie to watch and put away when they're done. Good storage furniture will stand up well to rough-and-tumble play.

Check your DVD library for age-appropriate movies. Make sure the collection is going to be appropriate for the kids that will be viewing it. DVDs geared towards younger children may be a bit boring for older kids, and movies geared towards older children might be scary, confusing or uninteresting for little ones.

Find newer releases to add to your DVD library. New DVD releases usually appear a few months after the film leaves theaters. Be sure not to wait too long to buy new releases that your kids really want, as they are often only available in limited release. Unless the DVD is a huge best-seller, the distributer will drop it after a few months, and you may not be able to find it again.

Get your kids' input on movies for their DVD library. Your children's favorite characters and movie genres change over time. Allowing your kids to pick out children's movies is a way to make sure their library is full of titles that interest them and give them a sense of ownership.

Buy Children's Movies
Back to Guides Directory