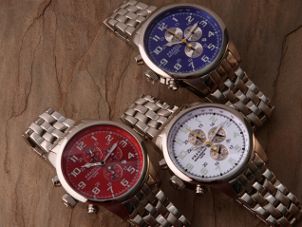 Ask any watch collector and they'll tell you that the art of creating an impressive wrist-watch collection can become an obsession. Before you invest countless hours and lots of money into this addictive past-time, there are a few key things to know regarding price, storage and maintenance of your new watches. Whether you're collecting stylish watches for fun or are looking to make watch collecting an investment hobby, this guide should help you prepare for your venture into the world of men's wrist watches.
Collecting Wrist Watches:

Know your brands. Watch brands are generally divided into tiers that help you determine how much they will cost and the craftsmanship of the movements.

Watch Brand Tiers

Basic watches: These watches include brands like Movado and Fortis. They are typically easy to find and cost up to $2,000 and use materials like steel and plated gold.

Low-end luxury watches: Baume & Mercier, Raymond Weil and TAG Heuer all fall into this category of luxury watches. These watches typically cost between $500 and $4,000 and use materials like real gold and sapphire crystals in their movements.

Luxury watches: Mid-range luxury watches usually consist of brands like Breitling, Rolex and Cartier. The use of quality steel, solid gold and diamonds means that these men's watches can cost anywhere from $1,000 to $20,000.

High-end luxury watches: Considered the best you can buy, high-end luxury watches are produced by brands like Blancpain and Patek Phillipe. They range in price from $5,000 to over 1 million dollars and are often handcrafted by master Swiss artisans. A high-end luxury watch boasts in-house movements and the finest materials and can make any watch collector envious.

Decide on a budget. Once you're acquainted with the brands you like and how much they cost, set a budget for yourself. Some people prefer to set a price per watch that they will pay, while others set aside a monetary amount for the entire collection and spend varying amounts on certain watches. Once you set a price point, try to never go over that line. It will take a little extra time, but half the fun of watch collecting is hunting down the wrist watches you love at a bargain price.

Create a storage spot. As your watch collection grows, you'll need a place to store it that keeps the watches protected from dust and scratches. Boxes with glass lids and partitioned sections provide an easy way to showcase your watches while keeping them protected. For a do-it-yourself alternative, you can also use a cigar humidor or an old jewelry box and create the padded sections for storage yourself.

Do regular maintenance. Depending on which type of watch you're collecting, you will need to perform certain tasks to keep them functional when not in use. Automatic watches do best while stored on watch winders, and manual watches should be wound daily to ensure precision.

Buy Men's Watches
Back to Guides Directory