by R. Lindley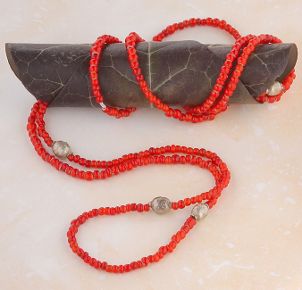 Things You Need:
Beads
Beading material
Bead board
Scissors or wire cutters
Crimp beads
Beading needle
Clasp
Clear nail polish
Beaded necklaces are beautiful, versatile pieces of jewelry. You can bead a necklace with a variety of beads, from crystals to hand-painted wooden loose beads. Beaded necklaces can be worn with an array of outfits, day or night. They also make great gifts, especially when they are handmade and tailored specifically for the recipient. Beading only takes a few supplies and can be learned easily, yet it is a fun and interesting hobby. Beading a necklace is so simple that you might soon find yourself with a jewelry box full of beautiful beaded necklaces in every color.
Making a Beaded Necklace:

Choose your supplies. There are many different types of beads available, crafted from a variety of materials. Glass beads are beautiful and shiny, while colored beads are fun for adding a splash of red or blue to a basic, neutral outfit. The beads you select will dictate the type of stringing material you need. Translucent beads should be used with clear or neutral beading material, such as elastic cording or monofilament line. Heavy beads, on the other hand, should be threaded onto sturdier beading material, such as wire or cord.

Design your necklace. Using a bead board, you can design your necklace before starting to avoid time-stealing mistakes. Bead boards are felt necklace or bracelet forms with measurements along the side and grooves to hold the beads in place. Start by arranging the beads on the form, from the center point first. Then you can make changes to the design as desired. Beginning in the center and working your way up will help you maintain the desired length of your necklace.

String your beads. Once you have your desired necklace design, you can begin stringing your beads. First, cut a section of beading material equal to the desired length of your necklace, plus four inches. This extra length allows you to secure the necklace and add a clasp. Start with a crimp bead to ensure that your beads will not fall off as you are stringing them. Thread the beads onto the wire, elastic or cord as you have arranged them on your bead board. With some materials, it is recommended that you use a beading needle, which will make threading the beads easier if you are using elastic or string.

Finish your necklace. Once you have strung all your beads and you are happy with the design, finish off your necklace with another crimp bead or a jewelry clasp. Trim any stray elastic, wire or string from your necklace. If you have any beading parts that stick out, you can cover them with clear nail polish so that they will not irritate the skin.
Tip:

If you are giving your necklace as a gift, don't forget about presentation! Wrapping the necklace up nicely in a small jewelry box or tiny homemade gift bag makes it ready for gifting.

Buy Loose Beads
Back to Guides Directory