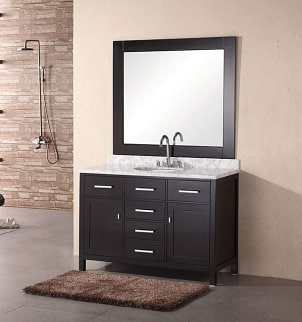 Taking the time to organize your home's bathroom vanities will not only save you time when you're searching for everyday items, but it will also give your home a more collected and put-together appearance. Bathroom vanities are easy to overload with clutter because they don't offer much storage space. However, there is a way around this dilemma. Keep reading for tips on how to avoid clutter on bathroom vanities.
Bathroom Vanity Cleaning Tips:

Clean the vanity on a regular basis. Bathroom vanities should be cleaned on a regular basis in order to prevent and take care of existing water spots, soap scum and other stains. Use a clean rag and appropriate vanity cleaner for the best results. Now that you have a clean vanity workspace, you can start getting rid of your clutter.

Throw out the extras. Get rid of items you don't use. Don't just store them somewhere else; actually throw them out. You'll find that you have a lot more room for the things you do need when you clean off your bathroom vanities.

Check for pre-existing storage. Most bathroom furniture provides some bathroom storage, like drawers and cupboards. If your vanity does, then use this to your advantage. Storing bulky items, like blow dryers and towels, in vanity drawers and cupboards will give you more space on your vanity counter and open up your bathroom, making it look cleaner, bigger and more organized.

Invest in storage items. If your bathroom vanity is the only bathroom storage area you have, consider investing in a floor cabinet and some plastic or wicker baskets. Assign your hair products to one of your wicker baskets and shaving supplies to another. You'll be able to find and access all your bathroom items easily when you keep them in one place.

Keep the basics out. The items you use on a daily basis should be kept out for quick and easy access. Some necessary items could be your toothbrush, face wash and hand soap. Go through your other bathroom items and determine which ones you use on a daily basis and give them a place on your bathroom vanity. When you eliminate the number of items you keep on your bathroom vanity, you'll find you have plenty of room.

Put things away when you're done. Once you use your razor or hairspray, put it back where it belongs. This keeps bathroom vanities free from unnecessary clutter and makes cleaning a lot easier.

Keep it simple. If you'd like to add some decorations to your bathroom vanities, remember to keep it simple. Too many decorations can make bathroom vanities look cluttered. Matching toothbrush holders, soap dispensers and tissue holders are decorative as well as functional.

Buy Bathroom Vanities
Back to Guides Directory